The Goonies (Funko Pop!)
Spiral-Bound | July 4, 2023
Arie Kaplan, Golden Books (Illustrated by)
Rebinding by Spiralverse™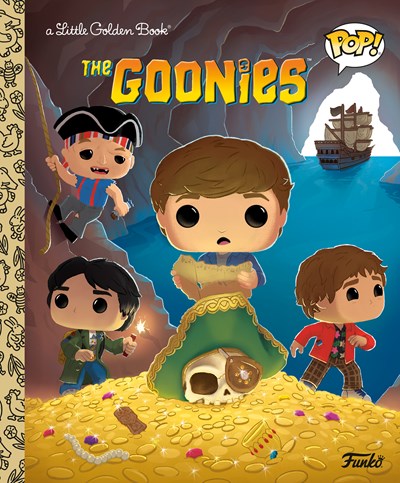 "Hey, you guys!" The Goonies Little Golden Book is based on the classic film that features those adventure-seeking Goonies as lovable Funko POP! figures!

Follow Mikey and the other Goonies as they race to find the pirate treasure that will help them save their beloved Goon Docks in this delightful retelling of the beloved classic movie The Goonies. Illustrated in the quirky and loveable Funko POP! art style, this collectable Little Golden Book will delight kids ages 2 to 5—and their parents—with its light-hearted reimagining of one of the funniest films of all time!

Series Overview: Little Golden Books enjoy nearly 100% consumer recognition. They feature beloved classics, hot licenses, and new original stories. . . the classics of tomorrow.
We will publish approximately 2-4 Funko branded Little Golden Books each year.
ARIE KAPLAN is the author of several fiction and nonfiction books. As a nonfiction author, Arie is best known for his award-winning From Krakow to Krypton: Jews and Comic Books, which is available now from the Jewish Publication Society.

Author Residence: Queens, NY