Princeton Review AP U.S. History Prep, 2023: 3 Practice Tests + Complete Content Review + Strategies & Techniques
Spiral-Bound | September 20, 2022
The Princeton Review
Rebinding by Spiralverse™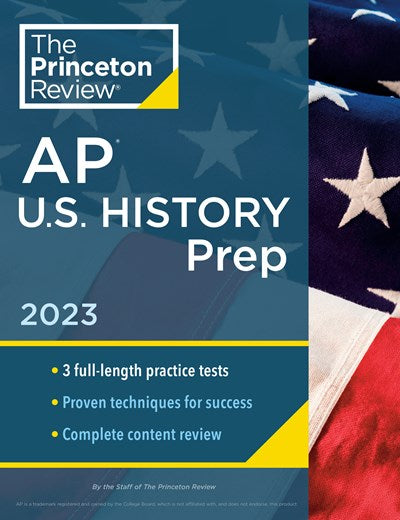 Everything students need to know to succeed on the AP U.S. History Exam--with 3 total full-length practice tests.

AP U.S. History Prep, 2023 provides students with an in-depth review of key terms and concepts organized by time period, including the seventeenth and eighteenth centuries, the creation of government and early democracy, the Civil War and Reconstruction, the Machine Age, the early twentieth century, post-World War America, and more. It also includes winning strategies to help students crack the multiple-choice section and detailed coverage of both essay types--DBQ (document-based question) and free-response, along with 3 full-length practice exams.
The experts at The Princeton Review have been helping students, parents, and educators achieve the best results at every stage of the education process since 1981. The Princeton Review has helped millions succeed on standardized tests, and provides expert advice and instruction to help parents, teachers, students, and schools navigate the complexities of school admission. In addition to classroom courses in over 40 states and 20 countries, The Princeton Review also offers online and school-based courses, one-to-one and small-group tutoring as well as online services in both admission counseling and academic homework help.