Safe All Along: Trading Our Fears and Anxieties for God's Unshakable Peace
Spiral-Bound | March 28, 2023
Katie Davis Majors
Rebinding by Spiralverse™
★★★★☆+ from 101 to 500 ratings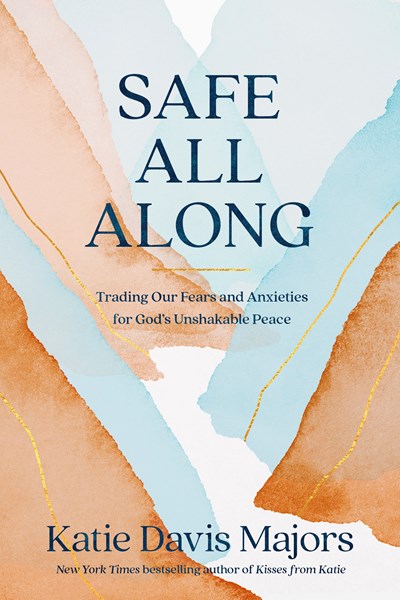 In a world constantly pulling us toward fear and anxiety, discover how to live with a steady confidence that you are never beyond the reach of God's loving hand, from the bestselling author of Kisses from Katie.

As a missionary, wife, and mom whose brood ranges from toddlers to young adults, Katie Davis Majors knows how hard it can be to hold on to peace through the stress-inducing waves of life. As our outward circumstances seem increasingly less stable, less peaceful, and less certain, rates of anxiety, worry, and stress continue to climb. The good news is that we serve a God who has promised us an inner peace that transcends all understanding.

In Safe All Along Katie offers practical ways to stay connected to God and His peace in the midst of tumultuous times, including trust and thanksgiving, prayer and presence, rest and remembrance. As you learn to surrender the illusion of control and lean more fully into God's love, you'll find comfort in knowing that He sees every bend and twist in your life's journey and He will never let you go. Along with guidance for how to handle the challenges of social media, busyness, distraction, ingratitude, and other threats to our personal calm, Katie reveals how loving and serving our neighbors transforms our perspective and leads to deeper peace. Most of all, she reminds us, through Bible teaching and personal stories, that our circumstances cannot rob us of peace if we intentionally place our confidence in the One who is unshakable.
"Katie's life of surrender and obedience has taught me this: God is with you and He can be trusted to carry you through whatever life brings. Safe All Along will help you break the cycle of what-if worries and experience the peace of God in new ways."—Jennie Allen, New York Times bestselling author of Get Out of Your Head

"Every once in a while a book comes along that feels like a strike of lightning with its power and potency. This is that book. In a culture saddled with fears, anxieties, and pain, Katie's words and story offer a flash of healing and grace. What a gift!"—Jefferson and Alyssa Bethke, bestselling authors of To Hell with the Hustle and Satisfied

"In such uncertain times, we need the words of ones who have themselves known deep uncertainty, been in the trenches of fear and anxiety, and found God right there. Katie is one of those people, going before us, holding our hands, leading us through these pages in the way that led her to Him."—Sara Hagerty, bestselling author of Unseen and Adore

"Majors's tone is refreshingly vulnerable as she draws on moments of spiritual joy and doubt alike to remind readers that the search for a stronger faith is an ongoing—but worthwhile—one. Believers will appreciate this road map to greater religious devotion."—Publishers Weekly

Katie Davis Majors is the bestselling author of Kisses from Katie and Daring to Hope. She is the founder of Amazima Ministries, an organization that aims to empower people in Uganda through authentic relationships, education, community strengthening, vocational training, and spiritual discipleship.

Having moved from Uganda to Tennessee with her husband, Benji, and their large family, Katie spends her average day folding laundry in her living room with little ones underfoot, chopping pounds of carrots for soup for her hungry crew, and whispering prayers to Jesus, who is still her very best friend.

Author Residence: Brentwood, TN

Author Hometown: Uganda