Mr. Wrong Number
Spiral-Bound | March 1, 2022
Lynn Painter
Rebinding by Spiralverse™
★★★☆☆+ from 50,001 + ratings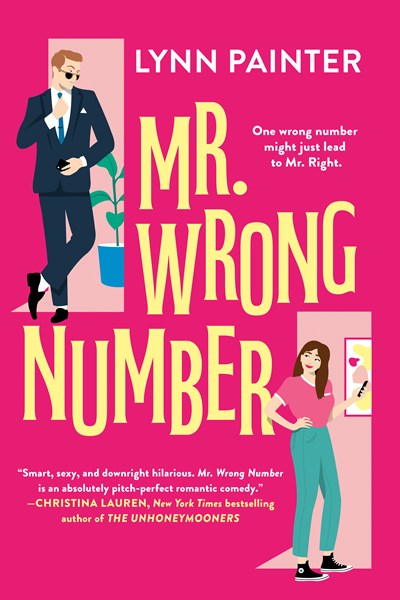 Things get textual when a steamy message from a random wrong number turns into an anonymous relationship in this hilarious rom-com by Lynn Painter.

Bad luck has always followed Olivia Marshall...or maybe she's just the screw-up her family thinks she is. But when a "What are you wearing?" text from a random wrong number turns into the hottest, most entertaining—albeit anonymous—relationship of her life, she thinks things might be on the upswing....

Colin Beck has always considered Olivia his best friend's annoying little sister, but when she moves in with them after one of her worst runs of luck, he realizes she's turned into an altogether different and sexier distraction. He's sure he can keep his distance, until the moment he discovers she's the irresistible Miss Misdial he's been sort of sexting for weeks—and now he has to decide whether to turn the heat up or ghost her before things get messy.
"Smart, sexy, and downright hilarious. Mr. Wrong Number is an absolutely pitch-perfect romantic comedy."—Christina Lauren, international bestselling author of The Unhoneymooners

"This book made me burst out laughing while on the treadmill and I almost lost my balance and fell to my demise. So. Don't read it while running on the treadmill, because you WILL explode with laughter at Olivia's terrible luck, and you will absolutely swoon over Colin, and you will definitely fall in love with the two of them and root for them with all of your heart. One of my favorite romcoms, heavy on the 'com' and steamy on the 'rom'!"—Jesse Q. Sutanto, author of Dial A for Aunties

"This book is an absolute blast, a classic rom-com setup with a modern twist. Lynn Painter's clever, charming voice sparkles on every page."—Rachel Lynn Solomon, author of Weather Girl

"Filled with laugh-out-loud situations and moments of heart-fluttering swooniness, Mr. Wrong Number is a true romantic comedy. I loved reading about Olivia's messy, passionate approach to life. And the sexual tension was off the charts! I'll read anything Lynn Painter writes and I'm already impatiently waiting for her next book."—Kerry Winfrey, author of Very Sincerely Yours

"If you find me wheeze-laughing on the floor, I'm thinking about Mr. Wrong Number. If you find me fanning myself, I'm thinking about Mr. Wrong Number. If you find me dreamily staring into the distance, I'm thinking about Mr. Wrong Number. Because Mr. Wrong Number is the most sidesplittingly funny, shenanigan-packed, sexual tension-filled book I've read in a long, long time. I dare you not to fall in love with Olivia and Colin, but most of all I dare you not to fall in love with Lynn Painter's writing!"—Ali Hazelwood, author of The Love Hypothesis

"Mr. Wrong Number puts the 'com' in rom-com, delivering energetic, laugh-out-loud hilarity from page one. Painter's mastery of sexy slow-burn tension and whip-sharp banter will have readers smiling from ear to ear. Perfect for fans of Christina Lauren, this deeply relatable romance proves that love may be closer than you expect."—Amy Lea, author of Set on You

"A delightfully messy heroine and world-class banter make this oh-so-sweet story of hidden identities and mixed (text) messages impossible to put down. Mr. Wrong Number is a sexy, hilarious, compulsively readable rom-com."—Emily Wibberley and Austin Siegemund-Broka, authors of The Roughest Draft

"Hilarious, heart-melting, and hopeful, Painter's adult debut is a romantic delight that I wished would never end. The phone number might have been wrong, but every single thing about Mr. Wrong Number is oh-so right."—Libby Hubscher, author of Meet Me in Paradise

"Playful and engaging, Lynn Painter's Mr. Wrong Number brings belly laughs, steam, and heart in equal measure. It's a delightful romp of a romcom."—Sarah Echavarre Smith, author of On Location

"Mr. Wrong Number by Lynn Painter is the perfect romcom. Charming, laugh-out-loud, and full of heart, it is a sheer delight of a reading experience. Painter's characters sparkle with personality: Colin is irresistable, Olivia is utterly adorable, and it's easy to see why they fall in love with each other because the reader does too right from the start. I haven't had so much fun reading a book in a long while! Gorgeous, glimmering, and guaranteed to make you laugh!"—India Holton, author of The Wisteria Society of Lady Scoundrels

"A laugh-out-loud flirty read that sizzles with witty banter and plenty of heat. I could not put it down!"—Samantha Young, author of Much Ado About You

"Mr. Wrong Number is a wildly addictive, wickedly funny tale of two seeming opposites - or are they? Painter excels at writing witty, rhythmic banter and dynamic characters with crackling chemistry. Fresh, original, and brimming with heart, Mr. Wrong Number is one of those rare unicorns I'm always searching for: a romance that's both fun and funny."—Devon Daniels, author of Meet Me in the Middle

"Olivia's…chemistry with Colin sings. This is sure to charm."—Publishers Weekly

"If you like your romances steamy, then Mr. Wrong Number by Lynn Painter is sure to leave you hot and bothered in a good way."—PopSugar

"Olivia's journey will keep you eagerly turning pages."—USA Today

"[A]n entertaining romantic comedy."—The Philadelphia Inquirer

"If you're in the mood for a laugh-out-loud, sexy rom-com about an unlucky young woman who moves in with her brother (and her brother's hot roommate) while she attempts to get her life together — look no further. Painter's hilarious voice and vibrant characters are a breath of fresh air in this highly enjoyable romance."—BuzzFeed

"Mr. Wrong Number was the first one of Lynn Painter's books that I've read, and I didn't know much about this book before I started reading…but I ended up loving this book and it completely exceeded my expectations! This book was a quick read for me—I found that the plot was relatively fast-paced, and I literally did not want to put this book down!"—The Nerd Daily

"Mr. Wrong Number was an absolute hoot! Olivia was a hot mess but she had a joie de vivre that was hard to resist and even staid and studly Colin couldn't help but see it. Their text exchanges were so funny I swear I had trouble keeping from laughing out loud. Lynn Painter does a great job inserting humor and emotion into every word. This was a well-written rom-com!"—The Reading Chick

"Mr. Wrong Number and Miss Misdial were a fantastic pair. Their sparks and chemistry were evident in both via the texts and in real life, and their story had me smiling almost continuously, from beginning to end."—We Live & Breathe Books

"Mr. Wrong Number by Lynn Painter is a sassy, saucy, and stimulating read for whenever you feel like experiencing butterflies."—Collider

"Mr. Wrong Number was just perfection, I loved reading this book from start to finish, not only was there great chemistry between our two main characters but that element of when will they realize who is on the other end of those texts was just addictively angsty!"—Harlequin Junkie

"Funny, flirty and some emotional dysfunctional family moments too, Mr. Wrong Number is a perfect pick for RomCom lovers who want great banter, a couple they can root for and some sweet with a tease of heat scenes."—The Baking Bookworm

"If you like your romances steamy, then Mr. Wrong Number by Lynn Painter is sure to leave you hot and bothered in a good way."—Popsugar

"She cleverly subverts the trope of the clumsy heroine and, though the banter is charming and funny, the characters bond in a deeper way as well. Pair that with just enough steam and conflict, and readers have a rom-com sure to please—an especially good fit for fans of The Hating Game or television's The New Girl."—Shelf Awareness
Lynn Painter lives with her husband and pack of wild children in Nebraska, where she is a weekly contributor to the Omaha World-Herald and an avid fan of napping. When working on a new book, she can often be found sound asleep on her office floor. Some might say she should grow up and stop randomly dozing off like she's a toddler, but Lynn considers it part of her writing "process."