Earn It!
Spiral-Bound | September 7, 2021
Cinders McLeod, Cinders McLeod (Illustrated by)
Rebinding by Spiralverse™
★★★☆☆+ from 101 to 500 ratings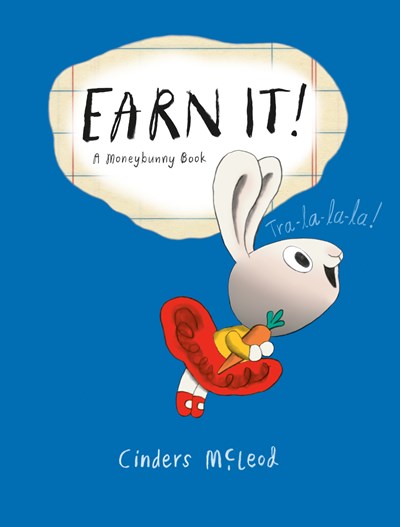 In this delightful introduction to the simple concept of earning money, an exuberant little bunny learns that fame and fortune must be earned.

Bun wants to be rich and famous. She loves to sing and knows she's meant for a career on stage. It should all be pretty easy—her mom can just drive her to the concert hall to perform! But her mom reminds her that most good things, like the garden they are growing, take time and work. At first, Bun isn't terribly excited by the idea of singing lessons and practice, but as she does the math and daydreams about her future singing career, the more she starts to like the idea of earning her way to stardom—a feeling just as good as being rich and famous!
"The cheery pencil and ink illustrations depict characters with large eyes and bursts of activity. . . . Gentle message about working hard is sound. A sweetly simplistic introduction to financial literacy and taking personal responsibility for one's success that should find a welcome home in most collections."—School Library Journal
Cinders McLeod (www.cindersmcleod.com) is the creator of the book and comic strip Broomie Law. Her illustrations have appeared in the Guardian, the Express, the Observer, the Independent on Sunday, the Glasgow Herald, Scotland on Sunday, the Globe and Mail, CBC, Macleans, and the Ottawa Citizen. Her work has been recognized by the Society of Newspaper Design, National Magazine Awards, National Newspaper Awards, Advertising and Design Club of Canada, Thames Television, and The Guinness Book of Records. Cinders is also a singer-songwriter-doublebassist, with a CD (Beyond our Means) on Billy Bragg's Utility Label. She lives in Toronto, Canada.