Tiny Tales: Stories of Romance, Ambition, Kindness, and Happiness
Spiral-Bound | March 1, 2022
Alexander McCall Smith, Iain McIntosh (Illustrated by)
Rebinding by Spiralverse™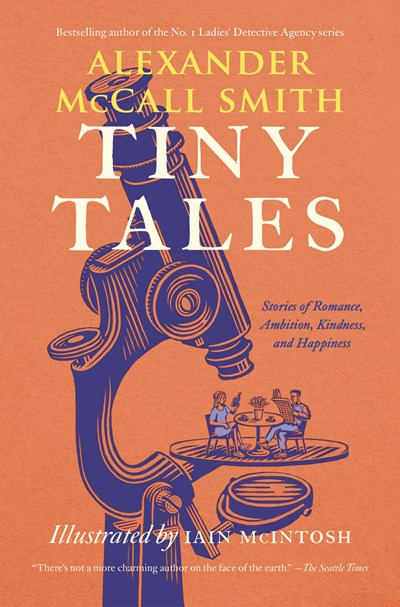 It is often said that the best things in life come in small packages; anyone in search of proof need look no further than the stories in this collection from the acclaimed author of the No. 1 Ladies' Detective Agency series: brief, utterly engaging tales that offer lasting surprise and delight, accompanied by charming illustrations by Iain McIntosh.

In Tiny Tales, Alexander McCall Smith explores romance, ambition, kindness, and happiness in thirty short stories accompanied by thirty witty cartoons designed by Iain McIntosh, McCall Smith's longtime creative collaborator. Here we meet the first Australian pope, who hopes to finally find some peace and quiet back home in Perth; a psychotherapist turned motorcycle racetrack manager; and an aspiring opera singer who gets her unlikely break onstage. And, of course, we spend time in McCall Smith's beloved Scotland, where we are introduced to progressive Vikings, a group of housemates with complex romantic entanglements, and a couple of globe-trotting dentists. These tales and illustrations depict the full scope of human experience and reveal the rich tapestry of life—painted in miniature.
Praise for Alexander McCall Smith's Tiny Tales:

"Whimsical. . . . Quirky and delightful." —Booklist (starred review)


Praise for Alexander McCall Smith:

"McCall Smith's generous writing and dry humor, his gentleness and humanity, and his ability to evoke a place and a set of characters without caricature or condescension have endeared his books to readers." --The New York Times

"A virtuoso storyteller." --The Scotsman

"A writer who charms many readers . . . McCall Smith's characters are well drawn and alive." --The Providence Journal

"McCall Smith's accomplished novels [are] dependent on small gestures redolent with meaning and main characters blessed with pleasing personalities." --Newsday
ALEXANDER McCALL SMITH is the author of the No. 1 Ladies' Detective Agency novels and a number of other series and stand-alone books. His works have been translated into more than forty languages and have been best sellers throughout the world. He lives in Scotland.