Ben Yokoyama and the Cookie of Doom
Spiral-Bound | March 2, 2021
Matthew Swanson, Robbi Behr (Illustrated by)
Rebinding by Spiralverse™
★★★★☆+ from 501 to 1,000 ratings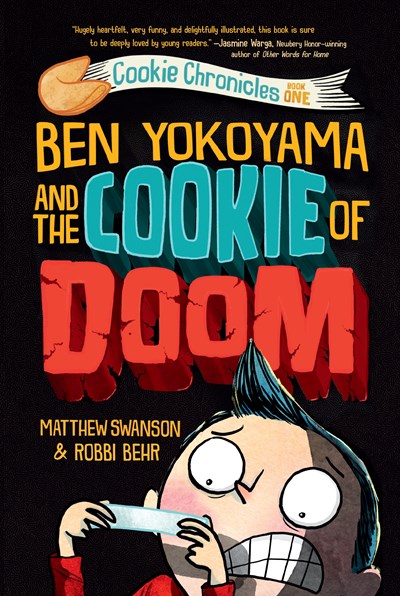 "This is my favorite book of the year." —Lincoln Peirce, New York Times bestselling author of Big Nate series

Meet Ben, a literal-minded kid with a big heart and an even bigger sweet-tooth, who cracks open a fortune cookie and discovers that TODAY might be his last day on Earth! Perfect for fans of DIARY OF A WIMPY KID or THE TERRIBLE TWO.

Live each day as if it were your last.

When Ben reads his fortune-cookie fortune, he's alarmed and inspired. Immediately, he begins drafting a bucket list of unfinished tasks and lifelong dreams (finish his 1000-piece model of the Taj Mahal, eat an entire cake, etc....). As Ben marches himself in and out of trouble, takes useful risks, and helps both his parents to see the bigger picture, readers discover how something that seems scary can instead be empowering--leading to friendships that might never have been made, neighbors that might never have been known, and apple pies that might otherwise never have been baked.
"This is my favorite book of the year. Great characters, hilarious jokes, and delightful drawings make each page a joy to read." —Lincoln Peirce, New York Times bestselling author of Big Nate

"Full of humor, heart, and glorious art, The Cookie Chronicles are baked to perfection." —Tui Sutherland, New York Times bestselling author of Wings of Fire

"Hugely heartfelt, very funny, and delightfully illustrated, Ben Yokoyama and the Cookie of Doom is sure to be deeply loved by young readers." —Jasmine Warga, Newbery Honor author of Other Words For Home

"Our time on Earth is limited. Cookies are delicious. These are two of life's most important truths, and this marvelous book contains both of them. If I could, I would eat it." —Lemony Snicket, New York Times bestselling author of A Series of Unfortunate Events

"WARNING: This book will make you crave noodles. And cake. And more Ben Yokoyama books, because they're amazing!" —Susan Tan, author of the Cilla Lee Jenkins series

"A great blend of witty text and dynamic illustrations. My family can't get enough of Ben Yokoyama!" —Minh Lê, author of Drawn Together

"Full of laughs and excitement." —Kirkus Reviews
Matthew Swanson and Robbi Behr are the husband/wife, author/illustrator team behind The Real McCoys, Babies Ruin Everything and Everywhere, Wonder (Imprint Books). Until recently, they also ran two small presses: Bobbledy Books and Idiots' Books. These days, they spend most of their time making books and raising four kids (10, 8, 6, and almost 2) in the hayloft of an old barn in Chestertown, Maryland. They spend the rest of their time speaking, teaching, and leading workshops on collaboration and creative entrepreneurship-and the rest of the rest of their time running a commercial salmon fishing operation on the Alaskan tundra.