Crazy Faith: It's Only Crazy Until It Happens
Spiral-Bound | September 21, 2021
Michael Todd
Rebinding by Spiralverse™
★★★★☆+ from 1,001 to 10,000 ratings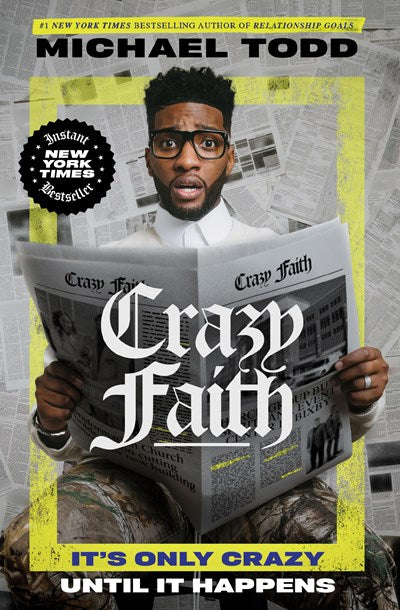 NEW YORK TIMES BESTSELLER • From the author of Relationship Goals . . . Will you be remembered as a person who claimed to follow God but liked to play it safe? Or as a person who lived your life out on the limb and trusted God enough to live in crazy faith?

Noah looked crazy when he started building the ark . . . until it started raining. It was crazy for Moses to lead a nation of people into the desert away from Egypt . . . until the Red Sea parted. It was crazy to believe that a fourteen-year-old virgin would give birth to the Son of God . . . until Mary held Jesus in her arms.

There are many things that seem normal or average today that at one point in time seemed absolutely crazy. Smartphones, Wi-Fi, and even the electric light bulb were all groundbreaking, history-making inventions that started out as crazy ideas. Our see-it-to-believe-it generation tends to have a hard time exercising true faith—one that steps out, takes action, and sees mountain-moving results. Many of us would rather play it safe and stand on the sidelines, but it's crazy faith that helps us see God move and reveals His promises.

In Crazy Faith, Pastor Michael Todd shows us how to step out in faith and dive into the purposeful life of trusting God for the impossible. Even if you have to start with baby faith or maybe faith, you can become empowered to let go of your lazy faith, trust God through your hazy faith, and learn to live a lifestyle of crazy faith. With powerful stories of modern-day faith warriors who take their cues from biblical heroes, Michael Todd equips you to

• believe for the impossible
• choose hope over fear
• be alert to the voice of God
• cope with loss and doubt
• develop a deeper level of trust in God
• speak faith-filled declarations
• inspire crazy faith in others

God's not looking for somebody to give Him all the reasons why His plans can't happen. He's looking for somebody to believe they will happen. In fact, He has so much He wants to do through you. The question is, Are you crazy enough to believe it?
"In true Michael Todd fashion, his infectious, genuine, and compelling way of teaching translates to the page as if you are sitting in the same room with him. In Crazy Faith, he helps us remember that our biggest leaps of faith aren't actually crazy. Each one is a demonstration of whether we believe God is faithful and we trust Him enough to follow where He is taking us. With responsibility and honesty, Michael gives us wise words and pumped-up encouragement that makes me want to walk with more faith and more of God in my decision-making. Get yourself a copy of Crazy Faith today!"—Lysa TerKeurst, #1 New York Times bestselling author and president of Proverbs 31 Ministries

"Michael Todd is one of the craziest pastors I know—crazy in a good way. If you are struggling with your faith and need inspiration, this book is for you! Michael Todd is the perfect guide to jump-start your faith. His mountain-moving stories and practical wisdom paired with biblical truths will teach you to trust in the power and promises of God so you can step off the sidelines and into a crazy faith."—Craig Groeschel, pastor of Life.Church and New York Times bestselling author

"Hand to heaven, Pastor Mike's faith has not only inspired me, but it has transformed me. I've always considered myself a woman of faith, but this book (and Mike's life) has pushed me to dream bigger, believe for more, and possess crazy faith! The best part of crazy faith is that it transforms into contagious faith in which we cannot help but tell everyone about a big God who does big things and fulfills big dreams. This isn't something Mike just believes; this whole book is what he breathes."—Bianca Juarez Olthoff, author, podcaster, and co-pastor of the Father's House, Orange County

"Crazy Faith is a beautifully inspiring, laugh-out-loud funny, and incredibly profound journey into the lifestyle of faith. Faith is so important to me because I believe it's how we honor God. I trust Mike's words in this book because he's walked this journey before writing about this journey. Lean in and get ready because you won't be the same after you read this book!"—Chad Veach, lead pastor of Zoe Church, Los Angeles

"It's tempting to think that either you are born with lots of faith or you aren't, but that's not how it works! Faith is a muscle that can be strengthened as we walk with God, and even a mustard seed of faith can move mountains. In Crazy Faith, Michael shows us exactly what that looks like, pointing to a crazy big God who will be there for you even when it seems impossible. Don't read this book if you are okay with where you are; it will spoil your appetite for the status quo."—Levi Lusko, lead pastor of Fresh Life Church and bestselling author

"I've had the privilege of watching Mike's faith up close. What you will find on these pages is not merely the stories of a man who believed God, but how you, too, can believe God for great things for your life. You will find inspiration, audacity, encouragement, and hope in this book. Crazy Faith is contagious!"—Tim Ross, lead pastor of Embassy City
Michael Todd is the #1 New York Times bestselling author of Relationship Goals and the lead pastor of Transformation Church in Tulsa, Oklahoma. His driving passion and the vision of his ministry is re-presenting God to the lost and found for transformation in Christ. Michael speaks at a variety of influential churches, events, and conferences each year, including Elevation Church, C3 Conference, Lakewood Church, VOUS Conference, Relentless Church, XO Conference, and many others. He and his wife, Natalie, have been married since 2010 and live in Tulsa, Oklahoma, with their four beautiful children: Isabella, Michael Jr., Ava Rae, and Gia Symone.