The Mediterranean Dish: 120 Bold and Healthy Recipes You'll Make on Repeat: A Mediterranean Cookbook
Spiral-Bound | September 13, 2022
Suzy Karadsheh
Rebinding by Spiralverse™
★★★★☆+ from 101 to 500 ratings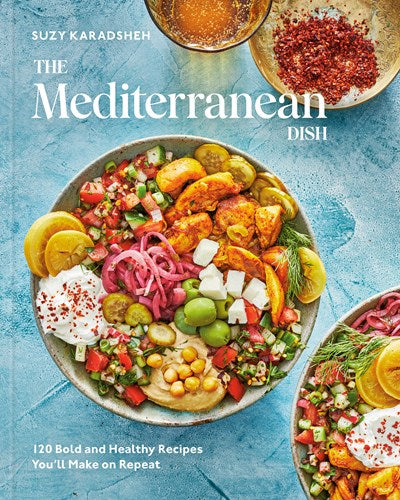 NEW YORK TIMES BESTSELLER • The highly anticipated debut cookbook from the creator of The Mediterranean Dish website, with more than 120 recipes for bright and flavorful Mediterranean diet-inspired meals.

"I want to cook everything in this book! It's not just beautiful—the recipes are fresh and exciting."—Gina Homolka, New York Times bestselling author of the Skinnytaste cookbooks

What began as one of the first online Mediterranean food blogs has blossomed into the leading site for modern Mediterranean cooking and lifestyle with millions of readers—and now it is the inspiration for the long-awaited first cookbook from Suzy Karadsheh. In her cookbook, Suzy brings cross-culturally inspired dishes from throughout the Mediterranean into American home kitchens, using easy-to-find ingredients and easy-to-follow, tested-to-perfection recipes to make your meals more vibrant, delicious, and yes—even a little healthier, too!

Born and raised by the sea in Port Said, Egypt, Suzy lived in Michigan and Des Moines with her family before moving to Atlanta, where she now lives. Her modern cooking reflects the rich and complex traditions of the Mediterranean and Middle East, from Greece and southern Spain to Jordan and Tunisia, as well as inspiration from her new Southern roots. Practical and weeknight-easy recipes include: Spanakopita Egg Muffins, Chicken Shawarma Bowls, Garlicky Spinach and Chickpea Soup with Lemon and Pecorino Romano, Roasted Asparagus Salad with Cherry Tomatoes and Basil, Middle Eastern Rice Pilaf with Toasted Vermicelli and Pine Nuts, Orange-Cardamom Olive Oil Cake, and of course Homemade Pita Bread to serve with just about everything.

Suzy's winning combination of approachable instructions, reliable recipes, stunning photography, charming authentic stories, and simple assemblies is sure to thrill anyone hungry to eat healthier food that bursts with flavor and spice.
"Suzy Karadsheh packs her debut cookbook with dishes we all want to be eating right now: vibrant, bold, and unfussy recipes you can make any night of the week. Recipes like the Meanest Loaded Hummus Dip, Melty Sweet Potato Rounds with Honeyed Tahini, and Date Night Crab Spaghetti have already got me hooked. If you're a lover of herbs, tangy citrus, and spices, you'll no doubt be a fan of this book."—Andy Baraghani, chef and author of The Cook You Want to Be

"Suzy Karadsheh's style of cooking reminds me much of my own. She grew up in Egypt in her mother's kitchen, and for her, the smells and flavors of Egyptian-Mediterranean cooking are memories steeped in her childhood. I visited Egypt for the first time with my daughter, and Suzy's recipes bring me right back. I am looking forward to cooking more from this cookbook and reliving those flavors. Her recipes are straightforward and simple but carry all the complex flavors, aromas, and colors of the Mediterranean. Brava, Suzy."—Lidia Matticchio Bastianich, bestselling author, Emmy Award-winning TV personality, and businesswoman

"By sharing everything from time-honored family dishes to brilliant updates on the classics, Suzy Karadsheh shows us how versatile, delicious, and healthy Mediterranean cooking can be. These produce-forward, super-fresh, healthy recipes will become staples in your kitchen!"—Adeena Sussman, author of Sababa: Fresh, Sunny Flavors from My Israeli Kitchen

"'Eat with the seasons. Use mostly whole foods. And, above all else, share!' enjoins food blogger Karadsheh in her vibrant debut, a generous trove of go-to recipes steeped in the Mediterranean's diverse culinary traditions . . . This is as full of flavor as it is hospitality."—Publishers Weekly

Suzy Karadsheh is the founder of The Mediterranean Dish, the leading site for modern Mediterranean cooking and lifestyle. She has been featured on the Today show, Access, Barron's, HuffPost, Good Housekeeping, Well + Good, Food Network's Delish, Shape, Pure Wow, The Kitchn, and more. She was born and raised in Egypt and now lives in Atlanta, Georgia, with her husband, two daughters, and dog, Max.