Sundays with Sophie: Flay Family Recipes for Any Day of the Week: A Bobby Flay Cookbook
Spiral-Bound | October 11, 2022
Bobby Flay, Sophie Flay, Emily Timberlake
Rebinding by Spiralverse™
★★★★☆+ from 31 to 100 ratings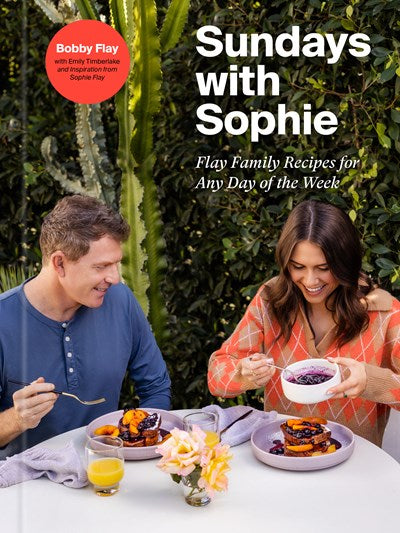 Pull up a chair with Bobby Flay and his all-time favorite person to cook for, his daughter, Sophie, as they share favorite recipes from their family kitchen.

Few things make Bobby Flay happier than cooking for his daughter, Sophie. A news reporter in Los Angeles and co-host of The Flay List on the Food Network, Sophie grew up around Bobby's restaurants and shares his passion for all things delicious.

In Sundays with Sophie, the Flays invite you to pull up a chair at their family table to learn Bobby's secrets for delivering delicious, unbeatable meals for any night of the week. Bobby encourages you to cook with the spirit that Sunday brings: meals that include gathering around the table and sharing beautiful, easy-to-create dishes with family and friends, whether it's a weeknight or the end of a tough week. These are the heartfelt dishes Bobby cooks for the people he loves, whether it's Sophie's favorite deli-style chicken salad that Bobby always keeps stocked in the fridge for her, or an elegant and simple mafaldine with saffron, tomato, and shrimp that Sophie affectionately calls "the shrimp pasta." And of course, there are plenty of twists on Bobby classics: grilled sweet potatoes drizzled in an herby citrus vinaigrette, cornbread with a Thai chili sauce butter, and crunch burgers with BBQ-style mushrooms. You'll also learn essential "desert island" techniques that any novice cook should know by heart, like how to "Piccata Anything" with a simple pan sauce of butter, lemon, white wine, and capers (Sophie's childhood favorite).

With Bobby as your teacher and Sophie as spirited sous-chef, you'll feel like you're cooking right alongside the dynamic duo, all while you build a repertoire of classic, adaptable recipes that will make you a better cook.
Bobby Flay is one of the country's most celebrated chefs, restaurateurs, media personalities, and authors. He is a James Beard Award winner, the author of seventeen cookbooks, and has starred in many Food Network programs, which earned him five Daytime Emmy Awards. In 2015, he became the first chef to be awarded a star on the Hollywood Walk of Fame. Bobby divides his time between New York and Los Angeles, where he lives with his two Maine Coon cats, Nacho and Stella. Sophie Flay is a community journalist for ABC7 news in Los Angeles. Flay has previously appeared alongside her father on his popular Food Network shows, including Beat Bobby Flay, Brunch at Bobby's, and The Flay List. Emily Timberlake is the coauthor of New York Times bestseller Foodheim with Eric Wareheim, and has contributed to the Los Angeles Times, San Francisco Chronicle, Taste, Punch, and more.

Author Residence: New York, New York and Los Angeles, California

Author Hometown: New York, New York