No Cure for Being Human: (And Other Truths I Need to Hear)
Spiral-Bound | September 28, 2021
Kate Bowler
Rebinding by Spiralverse™
★★★★☆+ from 10,001 to 50,000 ratings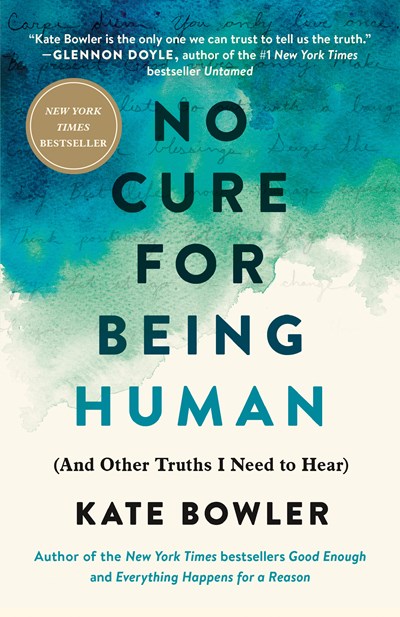 NEW YORK TIMES BESTSELLER • The bestselling author of Everything Happens for a Reason (And Other Lies I've Loved) asks, how do you move forward with a life you didn't choose?

"Kate Bowler is the only one we can trust to tell us the truth."—Glennon Doyle, author of the #1 New York Times bestseller Untamed

It's hard to give up on the feeling that the life you really want is just out of reach. A beach body by summer. A trip to Disneyland around the corner. A promotion on the horizon. Everyone wants to believe that they are headed toward good, better, best. But what happens when the life you hoped for is put on hold indefinitely?

Kate Bowler believed that life was a series of unlimited choices, until she discovered, at age thirty-five, that her body was wracked with cancer. In No Cure for Being Human, she searches for a way forward as she mines the wisdom (and absurdity) of today's "best life now" advice industry, which insists on exhausting positivity and on trying to convince us that we can out-eat, out-learn, and out-perform our humanness. We are, she finds, as fragile as the day we were born.

With dry wit and unflinching honesty, Kate Bowler grapples with her diagnosis, her ambition, and her faith as she tries to come to terms with her limitations in a culture that says anything is possible. She finds that we need one another if we're going to tell the truth: Life is beautiful and terrible, full of hope and despair and everything in between—and there's no cure for being human.
"I began reading No Cure for Being Human after dinner one evening and didn't move until I finished the last gorgeous page. As I finally put this masterpiece down, I thought Kate Bowler is the only one we can trust to tell us the truth. Bowler is a prophet and her new offering is another true gift to the world. This book will open minds and warm hearts."—Glennon Doyle, author of the #1 New York Times bestseller Untamed

"With grace, wisdom, and humor, Kate Bowler encourages us to cut back on self-help Kool-Aid and teaches us what it means to be human."—Adam Grant, #1 New York Times bestselling author of Think Again

"Bowler offers an alternative to the good vibes/prosperity gospel approach: honesty with room for mystery and humor."—The New York Times

"Kate Bowler has paid through the nose to become a writer of uncommon spiritual wisdom, coupled with an amazing sense of humor and a heart full of love. She fills me with hope."—Anne Lamott, New York Times bestselling author of Dusk, Light, Dawn

"Kate Bowler refuses to jump on the bandwagon of toxic positivity. Instead, she leads us to a truer truth: The work is unfinishable, and so be it."—Kelly Corrigan, New York Times bestselling author, host of the podcast Kelly Corrigan Wonders and PBS's Tell Me More with Kelly Corrigan

"Kate Bowler is the rare author who can explore difficult subjects with both breathtaking honesty and lightheartedness. She brings profound insight and love to the human experience."—Gretchen Rubin, #1 New York Times bestselling author of The Happiness Project

"In a culture that asks us to constantly strive and improve, Kate Bowler recognizes that our own pain is neither an aberration nor an opportunity but a fact of life. There is nobody on earth who sees our humanity quite like Kate Bowler."—Nora McInerny, creator and host of the podcast Terrible, Thanks for Asking

"Those in need of a wake-up call will find it in this breathtaking narrative. . . . Bowler's strong faith is present throughout, though the writing, refreshingly, never feels overtly religious. . . . Her convictions underscore the importance of living life on one's own terms."—Publishers Weekly (starred review)

"[Kate Bowler] follows her earlier . . . with wise, wry reflections on living in the face of uncertainty. . . . Like others who have suffered traumatic loss or illness . . . Bowler recognizes that 'so often the experiences that define us are the ones we didn't pick.' A sensitive memoir of survival."—Kirkus Reviews

"With hilarity and courage, Bowler tells the story of being diagnosed with stage-four cancer at age thirty-five, which forced her to re-examine the way she (and we) live our lives. This is a brilliant examination of what happens when everything you assumed is suddenly in question."—Lori Gottlieb, bestselling author of Maybe You Should Talk to Someone
Kate Bowler is an associate professor of the history of Christianity in North America at Duke Divinity School. She completed her undergraduate degree at Macalester College, received a master's of religion from Yale Divinity School, and a PhD at Duke University. She is the author of Blessed: A History of the American Prosperity Gospel, the New York Times bestselling memoir Everything Happens for a Reason: And Other Lies I've Loved, and The Preacher's Wife: The Precarious Power of Evangelical Women Celebrities. On her popular podcast, Everything Happens, she talks with people about what they have learned in difficult times and why it is so difficult to speak frankly about suffering. She has appeared on the TED stage, NPR, and Today, and her writing has been featured in The New York Times, The Washington Post, and Time. She lives in Durham, North Carolina, with her husband, Toban, and son, Zach.