Everyday Dinners: Real-Life Recipes to Set Your Family Up for a Week of Success: A Cookbook
Spiral-Bound | May 4, 2021
Jessica Merchant
Rebinding by Spiralverse™
★★★★☆+ from 101 to 500 ratings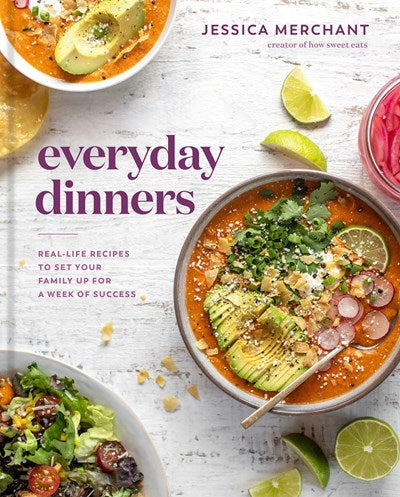 Get family dinner on the table in 30 minutes or less without sacrificing beauty or flavor, from the beloved blogger and author of The Pretty Dish.

"The new go-to book for home cooks everywhere. Yum!"—Ree Drummond, #1 New York Times bestselling author of The Pioneer Woman Cooks

With her down-to-earth style, can-do attitude, and gorgeous photography, Jessica Merchant presents Everyday Dinners, your new guide for meal prepping. Along with plant-based, one pot, and slow cooker recipes, Jessica also includes weekly dinner plans, ideas, tips and tricks, and even a 45- to 60-minute meal prep game plan for the weekends to keep cooking easy and quick on busy weeknights.

You and your family will be delighted and nourished by Jessica's recipes for Roasted Sweet Potatoes with Honey Ginger Chickpeas and Tahini, Tuscan Cheese Tortellini Soup, Honey Dijon Pretzel-Crusted Salmon, Grilled Peach BBQ Pork Chops with Napa Slaw, and Garlic + Chive Butter Smashed Potatoes. As life gets busier, it's increasingly harder to set aside time to put a nourishing meal on the table after a long day. In Everyday Dinners, Jessica gives us the tools and tricks to make that possible.
"I have been a fan of Jessica's glorious recipes for over ten years, for good reason: They work every time! This is absolutely her best cookbook yet, and trust me . . . you are going to want to make every single dish. It is going to be the new go-to book for home cooks everywhere. Yum!"—Ree Drummond, #1 New York Times bestselling author of The Pioneer Woman Cooks

"Jessica is changing the dinner game with Everyday Dinners. Her recipes are easy, approachable, and so creative! I literally want to make everything from this cookbook!"—Gina Homolka, author of Skinnytaste

"There is nobody who puts modern, fun, delicious twists on classic dinners like my favorite food blogger, Jessica Merchant. Merchant makes the most mundane of all meal prep—the weeknight dinner—a cause for celebration. I'm making the Honey Dijon Pretzel-Crusted Salmon on Wednesday night and trying one of four Puff Pastry Pizzas on Thursday. This cookbook is not only dazzling, it's a necessity for the busy at-home cook."—Elin Hilderbrand, author of 28 Summers

"As a busy career mom with an even busier toddler, I think Jessica Merchant's new book Everyday Dinners is an absolute lifesaver! Jessica has created the quintessential cookbook for the family starved for time and sensational meals."—Jocelyn Delk Adams, author of Grandbaby Cakes

"Everyday Dinners is the answer to the monotonous question, 'What's for dinner?' Jessica provides more than 100 recipes that will get you and your family excited for dinnertime. The recipes combine fresh ingredients with pantry staples that are easy enough for a weeknight meal, but still feel special."—Maria Lichty, author of Two Peas & Their Pod Cookbook

"Jessica's laid-back, flavor-forward recipes to getting dinner on the table (and actually enjoying the process and time with your family) are nothing short of fantastic. These fuss-free recipes are exactly what you want to have in your back pocket for every night of the week."—Gaby Dalkin, author of What's Gaby Cooking and Eat What You Want

"I want everything in this book. Literally everything."—Molly Yeh, cookbook author and Food Network host

"Reading Everyday Dinners reminded me why Jess has been my favorite food blogger for ten years now. Her warmth, humor, and expertise is evident in every word she writes, and her recipes are just so good. To be honest, I have not been very on top of cooking at home or eating vegetables in recent months, but Everyday Dinners inspired me to start doing ten minutes of meal prep every day so I can make all of these incredible recipes."—Rachel Miller, author of The Art of Showing Up
Jessica Merchant is a full-time recipe developer and writer who happens to be crazy passionate about all things food. She is the author of The Pretty Dish and Seriously Delish, and details her adventures in and out of the kitchen on her popular blog, How Sweet Eats, which is read by millions. She lives in Pittsburgh, Pennsylvania, with her family.