Bless the Daughter Raised by a Voice in Her Head: Poems
Spiral-Bound | March 1, 2022
Warsan Shire
Rebinding by Spiralverse™
★★★★☆+ from 1,001 to 10,000 ratings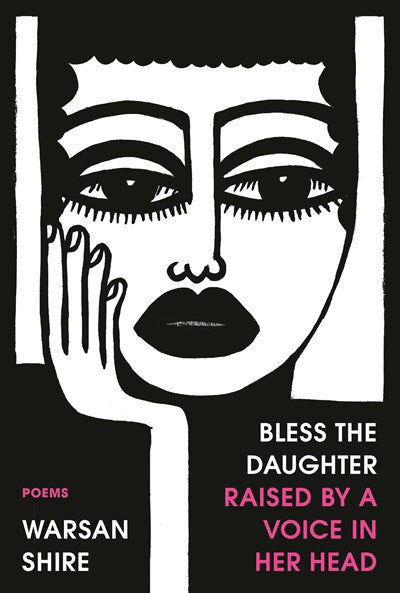 Poems of migration, womanhood, trauma, and resilience from the celebrated collaborator on Beyoncé's Lemonade and Black Is King, award-winning Somali British poet Warsan Shire

"The beautifully crafted poems in this collection are fiercely tender gifts."—Roxane Gay, author of Bad Feminist

"Shire is the real thing—fresh, cutting, indisputably alive."—Dwight Garner, The New York Times

LONGLISTED FOR THE GRIFFIN POETRY PRIZE • ONE OF THE BEST BOOKS OF THE YEAR: Vanity Fair, The Guardian, Publishers Weekly

Mama, I made it / out of your home / alive, raised by / the voices / in my head.

With her first full-length poetry collection, Warsan Shire introduces us to a young girl, who, in the absence of a nurturing guide, makes her own way toward womanhood. Drawing from her own life, as well as pop culture and news headlines, Shire finds vivid, unique details in the experiences of refugees and immigrants, mothers and daughters, Black women and teenage girls. In Shire's hands, lives spring into fullness. This is noisy life, full of music and weeping and surahs and sirens and birds. This is fragrant life, full of blood and perfume and shisha smoke and jasmine and incense. This is polychrome life, full of henna and moonlight and lipstick and turmeric and kohl. The long-awaited collection from one of our most exciting contemporary poets, this book is a blessing, an incantatory celebration of resilience and survival. Each reader will come away changed.
"To say Warsan Shire's first full-length poetry collection is 'highly anticipated' is an understatement. . . . Consider Bless the Daughter essential reading."—The Week

"The British-Somali poet is charting a new course with her first full-length poetry collection . . . which weaves together the themes of migration, womanhood, Black identity, and intergenerational collection that Shire is so singularly gifted at exploring. Shire frequently draws on her own life to create her art, and the end result is a collection of poems that will shine as a beacon for marginalized communities everywhere (and, perhaps, inspire those who have always taken their own belonging for granted to think beyond the confines of their individual experience)."—Vogue

"This is a collection that merits slow and careful reading."—BuzzFeed

"In her first full-length collection of poetry, the Somali-British writer forges her own path, with meditations on migration, femininity, trauma and resilience."—Esquire

"Bless the Daughter Raised by a Voice in Her Head tackles many of the same themes as her previous work, with the same striking verse we've come to expect from her."—Bustle

"Shire's strikingly beautiful imagery leverages the specificity of her own womanhood, love life, tussles with mental health, grief, family history, and stories from the Somali diaspora, to make them reverberate universally. . . . By dint of all those blessings and Shire's sensitivity, the poetry in Bless the Daughter soothes, even while it picks at the scabs of the wounds that cause trauma. Ultimately, the book feels like Shire is performing a benediction, laying trauma's ghosts to rest."—The Telegraph

"This full-length collection . . . depicts a journey to womanhood intermixed with pop culture and news references. Shire's body of work has always impressed me with its triumph of visceral, biting imagery. . . . Shire's poetry flows with power like the earth splitting wide open."—Literary Hub

"The commanding debut from Shire captures the loneliness of migration in crystalline language punctuated by the menace of patriarchal violence. . . . Shire's assured voice teems with righteous fury, tempered by rich language to create a memorable and powerful book."—Publishers Weekly (starred review)

"It is not overstatement to say Shire writes the way Nina Simone sang. All the brilliance of her lean, monumental Teaching My Mother How to Give Birth is magnified in this remarkable new book."—Terrance Hayes, author of American Sonnets for My Past and Future Assassin

"Beauty is maddeningly elusive, but it does exist. It's here in these lines, bursting brilliant, reshaping the story."—Patricia Smith, author of Incendiary Art

"Warsan Shire's exquisite, memorable, and finely tuned poems articulate a depth of experience that never fails to surprise and profoundly move me, as she so powerfully gives voice to the unspoken."—Bernardine Evaristo, author of Girl, Woman, Other

"Heartbreaking, full-bodied, and luscious . . . If someone from another planet wanted to know what it was like for a woman to survive on earth, they should read this book!"—Pascale Petit, author of Tiger Girl

"This fierce and compelling book of poems should come with a warning label: These poems will break your heart."—Julia Alvarez, author of In the Time of the Butterflies and Afterlife

"Warsan Shire is an expert sculptor. She molds words into clay, her poems into statues—each one a wonder that I return to, in reverence."—Vivek Shraya, author of I'm Afraid of Men and even this page is white
Warsan Shire is a Somali British writer and poet born in Nairobi and raised in London. She has written two chapbooks, Teaching My Mother How to Give Birth and Her Blue Body. She was awarded the inaugural Brunel International African Poetry Prize and served as the first Young Poet Laureate of London. She is the youngest member of the Royal Society of Literature and is included in the Penguin Modern Poets series. Shire wrote the poetry for the Peabody Award–winning visual album Lemonade and the Disney film Black Is King in collaboration with Beyoncé Knowles-Carter. She also wrote the short film Brave Girl Rising, highlighting the voices and faces of Somali girls in Africa's largest refugee camp. Warsan Shire lives in Los Angeles with her husband and two children. Bless the Daughter Raised by a Voice in Her Head is her full-length debut poetry collection.