The Light We Give: How Sikh Wisdom Can Transform Your Life
Spiral-Bound | July 19, 2022
Simran Jeet Singh
Rebinding by Spiralverse™
★★★★☆+ from 501 to 1,000 ratings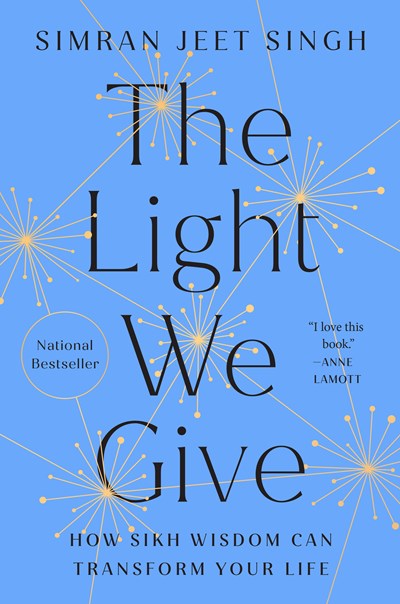 A National Bestseller

"I love this book… It is rich in wisdom, religious and personal, and it is absolutely charming." —Anne Lamott, author of Dusk, Night, Dawn and Help, Thanks, Wow

An inspiring approach to a happier, more fulfilling life through Sikh teachings on love and service.

As a boy growing up in South Texas, Simran Jeet Singh and his brothers confronted racism daily: at school, in their neighborhood, playing sports, and later in college and beyond. Despite the prejudice and hate he faced, this self-described "turban-wearing, brown-skinned, beard-loving Sikh" refused to give in to negativity. Instead, Singh delved deep into the Sikh teachings that he grew up with and embraced the lessons to seek the good in every person and situation and to find positive ways to direct his energy. These Sikh tenets of love and service to others have empowered him to forge a life of connection and a commitment to justice that have made him a national figure in the areas of equity, inclusion, and social justice.

The Light We Give lays out how we can learn to integrate ethical living to achieve personal happiness and a happier life. It speaks to those who are inspired to take on positive change but don't know where to begin. To those who crave the chance to be empathetic but are afraid of looking vulnerable. To those who seek the courage to confront hatred with love and compassion. Singh reaches beyond his comfort zone to practice this deeper form of living and explores how everyone can learn the insights and skills that have kept him engaged and led him to commit to activism without becoming consumed by anger, self-pity, or burnout.

Part memoir, part spiritual journey, The Light We Give is a transformative book of hope that shows how each of us can turn away from fear and uncertainty and move toward renewal and positive change.
Praise for The Light We Give:

"In this lucid blend of memoir and self-help, Singh…reflects on being Sikh in the U.S. and shares life lessons gleaned from Sikhism…Singh's fleet-footed storytelling seamlessly moves between personal stories, Sikh theology and history, and thoughtful musings on what it means to live by a Sikh philosophy, adding up to an exemplary meditation on the faith. This has a lot to offer." — Publishers Weekly (starred review)

"The Light We Give is a refreshing look at how we can connect—and reconnect—with one another. Simran Jeet Singh's moving story of growing up a turban-wearing Sikh American in South Texas draws from wisdom that all of us need as it charts a new way forward." —R.C. Buford, CEO of the San Antonio Spurs

"Clever, informative, and very accessible, Singh's first book for adults explores tenets of the Sikh faith and applies them to everyday life…he uses relatable humor and amusing anecdotes to connect with readers about his faith and show them how they, too, can apply it to their lives…Readers will come away from the book wanting to be better themselves and to work for positive change in the world." —Booklist

"An accessible work that combines personal testimony of a fascinating and little-understood ethnic and religious minority in America…A worthwhile and readable introduction to Sikhi and a strong testament to peaceful living." —Kirkus, STARRED REVIEW

"I've appreciated Simran's writing for years now, and I really love this book. The Light We Give is a beautiful reflection of how so many Sikhs experience our world and what Sikh teachings have to offer all of us today. This is an essential book for people who care about kindness, justice, and living a good life." —Jagmeet Singh, leader of Canada's New Democratic Party

"Beautiful, profound, and above all transformative, The Light We Give is a book that will not only stay with you but change you. Through harrowing stories of personal experiences and a rarely seen exploration of the tenets of the Sikh faith, Simran Jeet Singh calls us to have empathy and love and to operate in them. This book couldn't be more timely." —Angie Thomas, author of The Hate U Give

"I love this book: The riveting story of Simran Jeet Singh's life growing up as a Sikh kid in San Antonio with his brown skin and turban, written so beautifully, both somehow exciting and humble. It is rich in wisdom, religious and personal, and it is absolutely charming." —Anne Lamott, author of Dusk, Night, Dawn, and Help, Thanks, Wow

"I found this book utterly fascinating. A compelling and enthralling introduction to Sikh traditions that will speak to people of every faith—and those who are looking for one. In its own unique way it is an important contribution to interfaith relations in our country. " —James Martin, SJ, author of Learning to Pray

"The Light We Give is an extraordinary book. With moral insight and an abiding commitment to make this world better one act at a time, Simran Singh pierces through the depressing noise of these dark days with a gentleness and care that soothes and inspires. Sikh wisdom and love leap from every page. After reading this book, I want to be better. I want to do better!" —Eddie S. Glaude, Jr., author of Begin Again
Simran Jeet Singh, Ph.D is Executive Director for the Religion & Society Program at the Aspen Institute and a visiting professor of history and religion at Union Theological Seminary. He is a Soros Equality Fellow with the Open Society Foundations, and in 2020 TIME magazine recognized him among sixteen people fighting for a more equal America. He is a columnist for the Religion News Service, and his work has appeared in The New York Times, The Washington Post, and on CNN. Singh is the author of the award-winning children's book Fauja Singh Keeps Going. He lives in New York City with his family.