Enough: Scenes from Childhood
Spiral-Bound |
Stephen Hough
Rebinding by Spiralverse™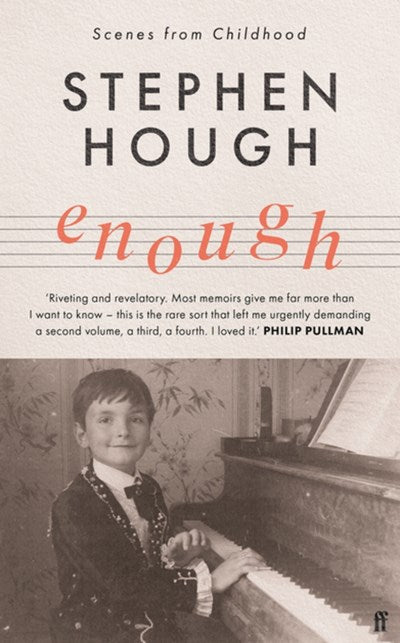 An engrossing and frank coming-of-age memoir from one of the world's leading pianists.

"Stephen Hough's memoir had me gripped from the beginning [ …] riveting and revelatory. Most memoirs give me far more than I want to know - this is the rare sort that left me urgently demanding a second volume, a third, a fourth. I loved it." — Philip Pullman

Stephen Hough is indisputably one of the world's leading pianists, winning global acclaim and numerous awards.
This memoir recounts his unconventional coming-of-age story, from his beginnings in an unmusical home in Cheshireto the main stage of Carnegie Hall in New York aged 21. We read of his early love-affair with the piano which curdled, after a teenage nervous breakdown, into failure at school and six-hours a day watching television, engulfed in dreams, seesawing between sexual and religious obsessions.We meet his supportive, if eccentric parents - his artistically frustrated father, his housework-hating mother. We read of the teachers who encouraged and inspired, and others who hit him on the head screaming, "you'll do nothing with your life". Then finding his way back to the piano, having abandoned plans for an alternative life as a Catholic priest, he flourished at the Royal Northern College of Music and the Juilliard School, beginning his career as an international soloist as this book ends.
One of the most distinctive artists of his generation, Stephen Hough combines a distinguished career as a pianist with those of composer and writer. He was named by The Economist as one of Twenty Living Polymaths. He is the winner of numerous awards and was awarded a knighthood in the Queen's Platinum Jubilee Honours, 2022.

Hough has performed with many of the world's major orchestras and has given recitals at the most prestigious concert halls. He has composed works for orchestra, choir, chamber ensemble and solo piano. Author of the award winning and highly praised Rough Ideas (Faber) he also regularly contributes articles for The Guardian, The Times, Gramophone and BBC Music Magazine, and wrote a blog for The Telegraph for 7 years.

He lives in London, where he is a visiting professor at the Royal Academy of Music.