The Time Machine
Spiral-Bound | January 1, 1984
H. G. Wells
Rebinding by Spiralverse™
★★★☆☆+ from 50,001 + ratings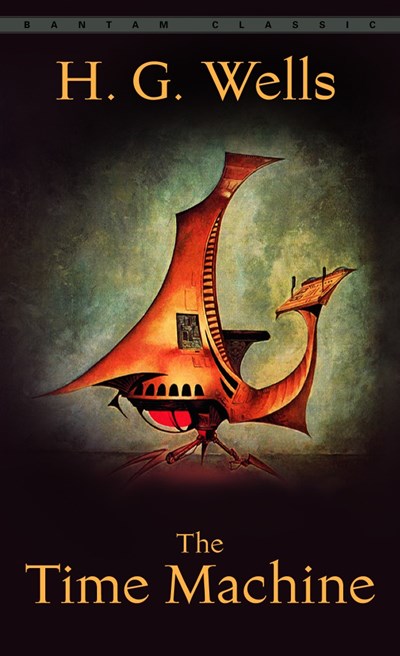 When the Time Traveller courageously stepped out of his machine for the first time, he found himself in the year 802,700—and everything had changed. In this unfamiliar, utopian age creatures seemed to dwell together in perfect harmony. The Time Traveller thought he could study these marvelous beings—unearth their secret and then return to his own time—until he discovered that his invention, his only avenue of escape, had been stolen.

H. G. Wells's famous novel of one man's astonishing journey beyond the conventional limits of the imagination first appeared in 1895. It won him immediate recognition and has been regarded ever since as one of the great masterpieces in the literature of science fiction.
"[Wells] contrives to give over humanity into the clutches of the Impossible and yet manages to keep it down (or up) to its humanity, to its flesh, blood, sorrow, folly." —Joseph Conrad
H. G. Wells was born Herbert George in Bromley, Kent, England, on September 21, 1866. His father was a professional cricketer and sometimes shopkeeper, his mother a former lady's maid. Although "Bertie" left school at fourteen to become a draper's apprentice (a life he detested), he later won a scholarship to the Normal School of Science in London, where he studied with the famous Thomas Henry Huxley. He began to sell articles and short stories regularly in 1893. In 1895, his immediately successful novel rescued him from a life of penury on a schoolteacher's salary. His other "scientific romances"—The Island of Dr. Moreau (1896), The Invisible Man (1897), The War of the Worlds (1898), The First Men in the Moon (1901), and The War in the Air (1908)—won him the distinction as the father of science fiction. Henry James saw in Wells the most gifted writer of the age, but Wells, having coined the phrase "the war that will end war" to describe World War I, became increasingly disillusioned and focused his attention on educating mankind with his bestselling Outline of History (1920) and his later utopian works. Living until 1946, Wells witnessed a world more terrible than any of his imaginative visions, and he bitterly observed: "Reality has taken a leaf from my book and set itself to supercede me."