How Do Dinosaurs Say Happy Birthday?
Spiral-Bound | September 1, 2011
Jane Yolen, Mark Teague (Illustrated by)
Rebinding by Spiralverse™
★★★★☆+ from 501 to 1,000 ratings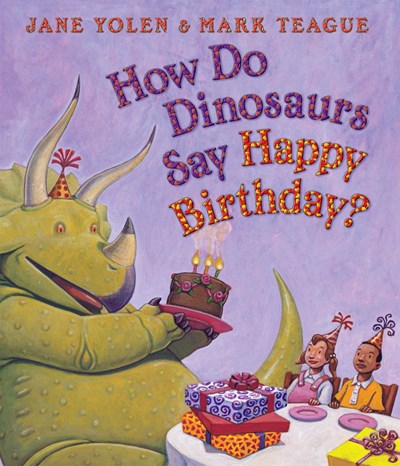 Surprise! Our bestselling little dinosaurs are back for a BIG birthday celebration!Everyone has a birthday, and from riotous birthday parties to the excitement of being one year older, having a birthday is the highlight of a young child's year. All little dinosaurs love to get presents, and this new board book will be an immediate favorite. From birthday hats to Ceratosaurus-sized cakes, America's young readers will laugh out loud as the celebration moves from "bad" birthday behavior to just the right amount of silliness and sharing. Bestselling duo Jane Yolen and Mark Teague have created the perfect introduction to birthday parties, with the same beloved humor and warmth of all their previous bestselling "How Do Dinosaurs" books. Here's a wonderful way to say "Happy Birthday!" to any dinosaur...young or old!
HOW DO DINOSAURS SAY GOOD NIGHT?"A delight from start to finish; better buy more than one."--BooklistHOW DO DINOSAURS LOVE THEIR CATS?HOW DO DINOSAURS LOVE THEIR DOGS?"Kids who need a reminder about being gentle should get the message without feeling called out."--Publishers WeeklyHOW DO DINOSAURS CLEAN THEIR ROOMS?HOW DO DINOSAURS COUNT TO TEN?"Kids who love dinosaurs will have fun."--Children's LiteratureHOW DO DINOSAURS LEARN THEIR COLORS?HOW DO DINOSAURS PLAY WITH THEIR FRIENDS?"Yolen's rhyming text just glides across the tongue as the gigantic beasts have fun and while human readers learn their colors."--Children's Literature"Illustrator Teague presents a variety of dinosaurs, and young kids will delight in learning and saying those tongue twisting names."--Children's Literature
Mark Teague is the internationally bestselling illustrator (and author) of more than 50 books for children. His numerous awards and honors include the Book Sense Book of the Year Award and the Christopher Medal. He has illustrated 12 full-size books and 11 board books in the widely successful How Do Dinosaurs...? series. He is the author of the popular Dear Mrs. LaRue, Firehouse!, and Jack and the Beanstalk and the French Fries. He lives in New York State.
Jane Yolen is the beloved author of more than 365 books for children and adults, including award-winning picture books, fiction, nonfiction, and poetry. In addition to two Nebula Awards and a National Book Award nomination, she has received a Golden Kite from SCBWI, three Mythopoeic Fantasy Awards, and the California Young Reader Medal. Yolen's How Do Dinosaurs Say Good Night? was an ALA Notable Book and a Christopher Medal winner. The book has gone on to become a widely popular bestselling series with over 15 million copies in print. She lives in Western Massachusetts.