Bad Man
Spiral-Bound | August 27, 2019
Dathan Auerbach
Rebinding by Spiralverse™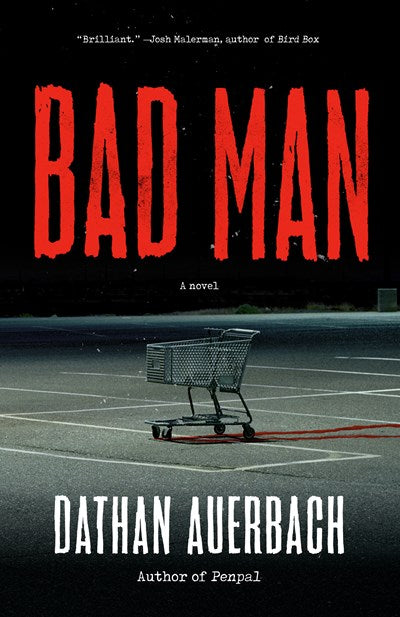 From Dathan Auerbach, the author of the horror sensation Penpal, a hauntingly dark novel about a young boy who goes missing, and the brother who won't stop looking for him.

Eric disappeared when he was three years old. Ben looked away for only a second at the grocery store, but that was all it took. His brother was gone. Vanished into the sticky air of the Florida Panhandle.

Five years later, Ben is still looking for his brother. Still searching, while his stepmother sits and waits and whispers for Eric, refusing to leave the house that Ben's father can no longer afford. Now twenty and desperate for work, Ben takes a job on the night stock crew at the only place that will have him: the store that blinked Eric out of existence.

Ben can feel there's something wrong there. With the people. With his boss. With the graffitied baler that shudders and groans and beckons. But he's in the right place. He knows the store has much to show him, so he keeps searching. Except Ben misses the most important thing of all.

That he should have stopped looking.
"An atmospheric and unsettling novel. . . . Auerbach's portrait of an after-hours grocery store—as benign a setting as one could imagine—takes on an aura of almost Gothic menace. Most importantly, his ability to convey the grief, guilt and sense of loss that fuel Ben's fixation gives the book a resonant emotional center. With just two novels, Auerbach has established himself as a significant figure in the post-King generation of horror writers."
—The Washington Post

"Auerbach cleverly weaves in the horror trope of creepy kids amid a vibe that's best described as Stephen King meets Three Billboards Outside Ebbing, Missouri. . . . The novel is wickedly effective in creating a feeling of doom. . . . Bad Man delivers an unexpected gut punch and saves its darkest deeds for an unnerving end."
—USA Today

"If you think The Shining set in a grocery store, you're not far off. . . . Auerbach is magnificent with atmosphere, able to conjure dread from a huge array of normally nonthreatening places. This is a horror author to watch very, very closely."
—Booklist

"Dark and disturbing. . . . Readers will be reminded of the young Stephen King."
—Publishers Weekly

"This nasty little slice of Southern gothic. . .is a heady, puzzling, and oddly gripping exercise in depicting a small town as a macabre place filled with everyday horrors ranging from a child's stuffed animal to a gruesome industrial accident. . . . Auerbach [keeps] readers on the edges of their seats for the whole ride."
—Kirkus Reviews

"Auerbach vividly turns an innocent small-town Florida grocery store into the place where nightmares go to replenish themselves. . . . Bad Man [has] a marvelously dark and horrifically satisfying conclusion."
—Shelf Awareness

"Bad Man will slowly but surely creep you out. . . . [Auerbach] wrings terror out of the every day and every night of the semi-urban Florida Panhandle and makes the world stop for the time it takes to read this work."
—Bookreporter

"A shattering and frightening novel about loss, obsession, and the horrors you unravel when you dig too deep. Dathan Auerbach has written my favorite book of the year."
—Thomas Olde Heuvelt, author of Hex

"With Penpal Auerbach freaked us out. With Bad Man he's got a bigger canvas, and, it seems, a sharper shovel, as he's dug deeper here and found a totally unsettling story about never giving up on a loss. Brilliant stuff."
—Josh Malerman, author Bird Box and Unbury Carol

"Bad Man blew a big dark hole right through my chest. Spellbindingly terrifying stuff. Dathan Auerbach writes high-test, 151-proof horror."
—Nick Cutter, author Little Heaven and The Troop

"Cleanup on aisle 9: Bad Man will make a mess of your daily life, will haunt your next trip to the grocery store. And then you'll want to reread it, just to see how Dathan Auerbach did that. And you'll be scared all over again."
—Stephen Graham Jones, author of Mongrels
DATHAN AUERBACH lives in Florida. He is the author of Penpal.