The Girl Who Smiled Beads: A Story of War and What Comes After
Spiral-Bound | April 2, 2019
Clemantine Wamariya, Elizabeth Weil
Rebinding by Spiralverse™
★★★★☆+ from 10,001 to 50,000 ratings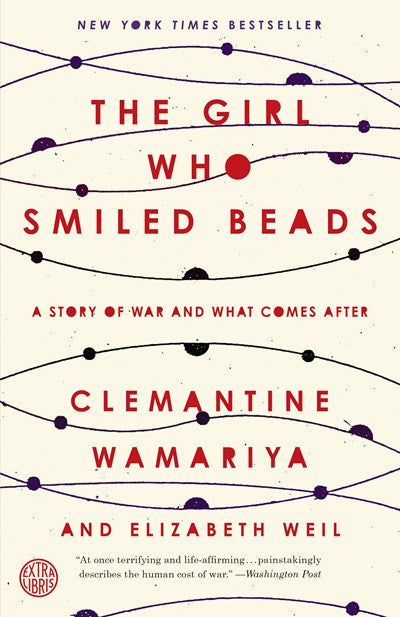 NEW YORK TIMES BESTSELLER • "The plot provided by the universe was filled with starvation, war and rape. I would not—could not—live in that tale."

Clemantine Wamariya was six years old when her mother and father began to speak in whispers, when neighbors began to disappear, and when she heard the loud, ugly sounds her brother said were thunder. In 1994, she and her fifteen-year-old sister, Claire, fled the Rwandan massacre and spent the next six years migrating through seven African countries, searching for safety—perpetually hungry, imprisoned and abused, enduring and escaping refugee camps, finding unexpected kindness, witnessing inhuman cruelty. They did not know whether their parents were dead or alive.

When Clemantine was twelve, she and her sister were granted refugee status in the United States; there, in Chicago, their lives diverged. Though their bond remained unbreakable, Claire, who had for so long protected and provided for Clemantine, was a single mother struggling to make ends meet, while Clemantine was taken in by a family who raised her as their own. She seemed to live the American dream: attending private school, taking up cheerleading, and, ultimately, graduating from Yale. Yet the years of being treated as less than human, of going hungry and seeing death, could not be erased. She felt at the same time six years old and one hundred years old.

In The Girl Who Smiled Beads, Clemantine provokes us to look beyond the label of "victim" and recognize the power of the imagination to transcend even the most profound injuries and aftershocks. Devastating yet beautiful, and bracingly original, it is a powerful testament to her commitment to constructing a life on her own terms.
Winner of the 2019 ALA/YALSA Alex Award

A Washington Post Notable Nonfiction Book of 2018
A Glamour Best Book of 2018
A Kirkus Reviews Best Book of 2018
A Real Simple Best Book of 2018

"Sharp, moving . . . Wamariya and her co-author, Elizabeth Weil . . . describe Wamariya's idyllic early childhood in the Rwandan capital, Kigali, and the madness that followed with an analytic eye and, at times, a lyrical honesty. . . . Wamariya is piercing about her alienation in America and her effort to combat the perception that she is an exotic figure, to be pitied or dismissed. . . . Wamariya tells her own story with feeling, in vivid prose. She has remade herself, as she explains was necessary to do, on her own terms."—Alexis Okeowo, New York Times Book Review

"Like Ishmael Beah's A Long Way Gone, on being a boy soldier in Sierra Leone, or Joseph Kim's Under the Same Sky, on escaping North Korea, The Girl Who Smiled Beads is at once terrifying and life-affirming. And like those memoirs, it painstakingly describes the human cost of war."—Washington Post

"Remarkable . . . Wamariya and the journalist Elizabeth Weil set out to sabotage facile uplift. . . . The fractured form of her own narrative—deftling toggling between her African and American odysseys—gives troubled memory its dark due."—Ann Hulbert, The Atlantic

"Wamariya's memoir proves how the human spirit can triumph. It truly floored me."—Elisabeth Egan, Glamour

"Unforgettable."—People

"Gripping . . . It is our human tragedy that there will always be war, and that there will always be displaced people. Memoirs that show exactly what that means, exactly what the toll is, are vital."—The Minneapolis Star Tribune

"Wamariya (along with Outside contributor Elizabeth Weil) tells . . . her story—which, yes, is often extremely tough—with brilliance." —Outside

"Heartbreaking and honest, this important memoir explores the lasting effects that trauma and destruction have on an individual and emphasizes the human ability to overcome it all and build a new future—even when that new life comes with horrors of its own." —Real Simple

"In the aftermath of the Holocaust, witnesses and survivors shared reflections that changed our moral understanding of good and evil and all that lies between. In The Girl Who Smiled Beads, Clemantine Wamariya has written a defining, luminescent memoir that shines a sharp light on the dark forces that roil our age. If you read this book—and once you read the first page, you will not put it down—you will never think about political violence, displacement, or the privileges and responsibilities of citizenship the same way again. Wamariya tells the story of her discombobulating resettlement in the United States as a teenager, following her harrowing experiences in the Rwandan genocide and as a refugee roaming the African continent in search of a home. Wamariya is unsparing in her criticisms of Western indifference and moral presumptuousness, and she subjects her own judgments and values to the same withering scrutiny, revealing a young woman that figures out how to survive but struggles to learn how to live. Her gripping and brutally honest reflections inspire us to count our blessings and summon us to follow her fierce and unrelenting example to try to help build the world we wish to see."
—Samantha Power, author of "A Problem from Hell": America and the Age of Genocide; Anna Lindh Professor of the Practice of Global Leadership and Public Policy, Harvard Kennedy School

"This book is not a conventional story about war and its aftermath; it's a powerful coming-of-age story in which a girl explores her identity in the wake of a brutal war that destroyed her family and home. Wamariya is an exceptional narrator and her story is unforgettable."—Publishers Weekly (starred review)

"At once heart-breaking and hopeful, [Wamariya's] story is about power and helplessness, loneliness and identity, and the strange juxtaposition of poverty and privilege.... This beautifully written and touching account goes beyond the horror of war to recall the lived experience of a child trying to make sense of violence and strife. Intimate and lyrical, the narrative flows from Wamariya's early experience to her life in the United States with equal grace. A must-read."—Library Journal (starred review)

"In this eloquent and engaging memoir, Clemantine Wamariya recalls a childhood spent as a refugee on the run from war, violence, and terror, and a womanhood shaped by those experiences. Affecting and utterly eye-opening, The Girl Who Smiled Beads is a powerful reminder of just how strong and indomitable the human spirit can be."—Bustle

"Riveting . . . [A] poetically written, searchingly honest memoir."—National Catholic Reporter

"Lyrical and hauntingly beautiful. The Girl Who Smiled Beads will inspire you."—Chanrithy Him, author of When Broken Glass Floats

"A powerful record of the refugee experience . . . [with] moments of potent self-reckoning."—Kirkus Reviews

"In her prose as in her life, Wamariya is brave, intelligent, and generous. Sliding easily between past and present, this memoir is a soulful, searing story about how families survive."—Booklist

Clemantine Wamariya is a storyteller and human rights advocate. Born in Kigali, Rwanda, displaced by conflict, Clemantine migrated throughout seven African countries as a child. At age twelve, she was granted refugee status in the United States and went on to receive a BA in Comparative Literature from Yale University. She lives in San Francisco.

Elizabeth Weil is a writer-at-large for The New York Times Magazine, a contributing editor to Outside magazine, and writes frequently for Vogue and other publications. She is the recipient of a New York Press Club Award for her feature reporting, a Lowell Thomas Award for her travel writing, and a GLAAD Award for her coverage of LGBT issues. In addition, her work has been a finalist for a National Magazine Award, a James Beard Award, and a Dart Award for coverage of trauma. She lives in San Francisco with her husband and two daughters.