Chariots of the Gods: 50th Anniversary Edition
Spiral-Bound | July 17, 2018
Erich Von Daniken, Erich Von Daniken (Foreword by), Erich Von Daniken (Afterword by)
Rebinding by Spiralverse™
★★★☆☆+ from 10,001 to 50,000 ratings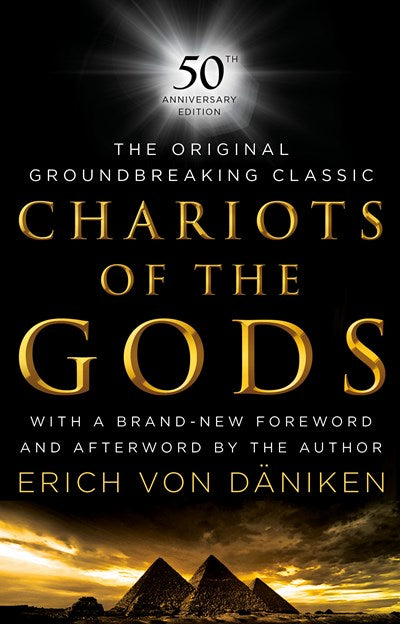 AS SEEN ON ANCIENT ALIENS • Now in a beautiful 50th anniversary edition with a new foreword and afterword by the author, this is the groundbreaking classic that introduced the theory that ancient Earth established contact with aliens.

Immediately recognized as a work of monumental importance, Chariots of the Gods endures as proof that Earth has been visited repeatedly by advanced aliens from other worlds. Here, Erich von Däniken examines ancient ruins, lost cities, spaceports, ufos, and a myriad of hard scientific facts that point to extraterrestrial intervention in human history. Most incredible of all, however, is von Däniken's theory that we are the descendants of these galactic pioneers—and he reveals the archaeological discoveries that prove it...

The dramatic discoveries and irrefutable evidence:

• An alien astronaut preserved in a pyramid
• Thousand-year-old spaceflight navigation charts
• Computer astronomy from Incan and Egyptian ruins
• A map of the land beneath the ice cap of Antarctica
• A giant spaceport discovered in the Andes

Includes remarkable photos that document mankind's first contact with aliens at the dawn of civilization.
Erich von Däniken is arguably the most widely read and most-copied nonfiction author in the world. He published his first and best-known book, Chariots of the Gods, in 1968. The worldwide bestseller was followed by forty more books, including The Eyes of the Sphinx, Twilight of the Gods, History Is Wrong, Evidence of the Gods, and Odyssey of the Gods. His works have been translated into more than thirty languages and have sold more than sixty-seven million copies. Several have also been made into films. Von Däniken's ideas have been the inspiration for a wide range of TV series, including the History channel's hit Ancient Aliens. He lives in Switzerland but is an ever-present figure on the international lecture circuit.