Law of Attraction: The Science of Attracting More of What You Want and Less of What You Don't
Spiral-Bound | May 12, 2010
Michael J. Losier
Rebinding by Spiralverse™
★★★★☆+ from 10,001 to 50,000 ratings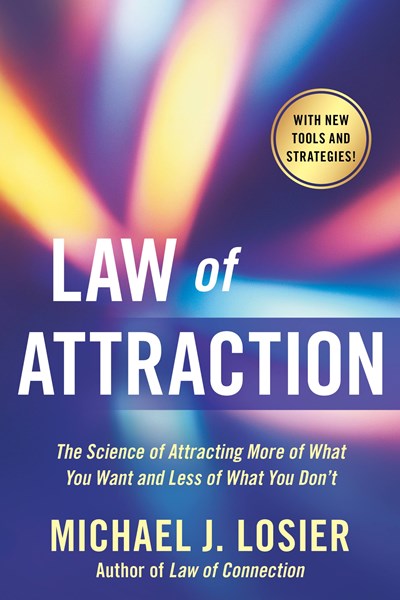 The Secret opened the world to the power of positive thinking. Now, Law of Attraction will guide you through every step toward getting the life you've always desired -- and deserved.
Have you noticed that sometimes what you need just falls into place? Perhaps you've met the perfect client or life partner merely by being at the right place at the right time. On the other hand, there are some people who find themselves in one terrible relationship after another or who seem unable to shake off their bad luck.
These experiences are evidence of a very powerful force. It's called the Law of Attraction, and right now it's attracting people, jobs, situations, and relationships to you. The Law of Attraction can be defined as: I attract to my life whatever I give my attention, energy, and focus to, whether positive or negative.
Now, with this book, readers can learn how to use the Law of Attraction deliberately and integrate it into their daily life. By doing this, they will attract all they need to do, know, and have so they can get more of what they want and less of what they don't want. With its easy-to-follow 3-step formula (Identify Your Desire, Give Your Desire Attention, and Allowing), complete with tips, tools, exercises, and scripts,
Law of Attraction
shows readers how to:
Attract their ideal mate and ideal relationships
Increase wealth and abundance
Improve their business with more customers, clients, and referrals
Discover their ideal job, true calling, or career
and more!
Michael Losier (pronounced Low-zee-eh), is known as the How-To Guy for teaching Law of Attraction. He is the best selling author of three books: Law of Attraction; The Science of Attracting More of What You Want and Less of What You Don't, Law of Connection – The Science of Using N.L.P. to Create Ideal Personal and Professional Relationships, and Your Life's Purpose – Uncover What Really Fulfills You.

In 2003, Michael wrote Law of Attraction and has since sold more than 3.5 million copies in 37 languages. Sharing his knowledge and experiences, Michael became a prominent trainer, travelling the world teaching audiences how to apply Law of Attraction to their lives. He is known for getting 100% participation and his audiences remembering 100% of everything they learned. He has certified 475 people in 17 countries as Certified Law of Attraction facilitators.

He caught the attention of Oprah Winfrey, who interviewed him four times on her Soul Series™ radio show on Sirius/XM satellite radio. He then went on to enjoy a year-long run hosting his own radio show on Oprah & Friends™ radio hosting the Law of Attraction Show with Michael Losier

Michael's second book, Law of Connection, was published in 2009. This book caught the attention of the business community, who learned new ways of connecting with employees, co-workers and family, both at work and at home. Michael's "how-to" style teaches how to create better connections with people in life.

His third book, Your Life's Purpose – Uncover What Really Fulfills You, helps the reader uncover what really fulfills them. Michael spent years developing a proven methodology for identifying basic human motivations and their strongest needs, which he labelled Fulfilment Needs.

Michael logs hundreds of hours a year as a radio, podcast, and TV talk-show guest.

In his down time, Michael enjoys garden centres, and hiking the old growth forests of Vancouver Island, British Columbia, Canada. Michael lives in Victoria, BC, on Canada's west coast.