The Left Hand of Darkness: 50th Anniversary Edition
Spiral-Bound | March 15, 1987
Ursula K. Le Guin, David Mitchell (Foreword by), Charlie Jane Anders (Afterword by)
Rebinding by Spiralverse™
★★★★☆+ from 50,001 + ratings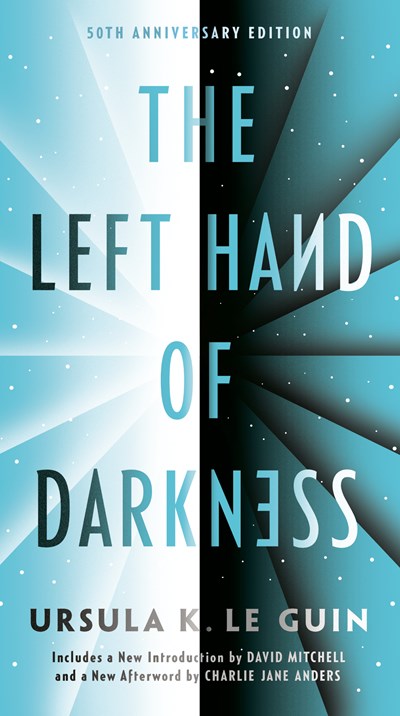 50TH ANNIVERSARY EDITION—WITH A NEW INTRODUCTION BY DAVID MITCHELL AND A NEW AFTERWORD BY CHARLIE JANE ANDERS

Ursula K. Le Guin's groundbreaking work of science fiction—winner of the Hugo and Nebula Awards.

A lone human ambassador is sent to the icebound planet of Winter, a world without sexual prejudice, where the inhabitants' gender is fluid. His goal is to facilitate Winter's inclusion in a growing intergalactic civilization. But to do so he must bridge the gulf between his own views and those of the strange, intriguing culture he encounters...

Embracing the aspects of psychology, society, and human emotion on an alien world, The Left Hand of Darkness stands as a landmark achievement in the annals of intellectual science fiction.
Praise for The Left Hand of Darkness

"[A] science fiction masterpiece."—Newsweek

"A jewel of a story."—Frank Herbert

"As profuse and original in invention as The Lord of the Rings."—Michael Moorcock

"An instant classic."—Minneapolis Star-Tribune

"Like all great writers of fiction, Ursula K. Le Guin creates imaginary worlds that restore us, hearts eased, to our own."—The Boston Globe

"A towering figure in science fiction and fantasy."—NPR
Ursula Kroeber Le Guin was born in Berkeley, California, in 1929. She was the bestselling author of the Earthsea books and the Hainish books, including The Left Hand of Darkness, which was awarded both the Nebula and the Hugo Awards. With the awarding of the 1975 Hugo and Nebula Awards to The Dispossessed, she became the first author to win both awards twice for novels. She passed away in 2018.