The Hunt for Red October
Spiral-Bound | September 7, 2010
Tom Clancy
Rebinding by Spiralverse™
★★★★☆+ from 50,001 + ratings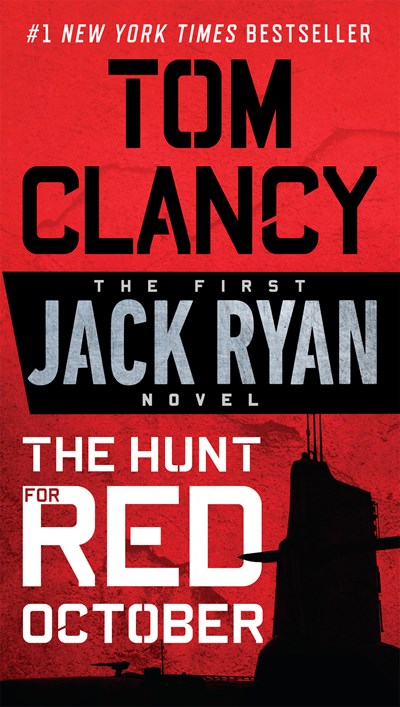 The 25th Anniversary Edition of The Hunt For Red October, A Jack Ryan Novel by #1 New York Times Bestselling author Tom Clancy.

Don't Miss the Original Series Tom Clancy's Jack Ryan Starring John Krasinski!

The #1 New York Times bestseller that launched the phenomenal career of Tom Clancy—a gripping military thriller that introduced the world to his unforgettable hero, Jack Ryan—nominated as one of America's best-loved novels by PBS's The Great American Read.

Somewhere under the freezing Atlantic, a Soviet sub commander has just made a fateful decision. The Red October is heading west. The Americans want her. The Russians want her back. The chase for the highly advanced nuclear submarine is on—and there's only one man who can find her...

Brilliant CIA analyst Jack Ryan has little interest in fieldwork, but when covert photographs of Red October land on his desk, Ryan soon finds himself in the middle of a high-stakes game of hide-and-seek played by two world powers—a game that could end in all-out war.
Praise for The Hunt for Red October

"Flawless...frighteningly genuine."—The Wall Street Journal

"Remarkable...intricate and nerve tingling."—Clive Cussler

"Gripping narrative...Navy buffs and thriller adepts have been mesmerized."—Time

Praise for Tom Clancy

"He constantly taps the current world situation for its imminent dangers and spins them into an engrossing tale."—The New York Times Book Review

"A brilliant describer of events."—The Washington Post

"No one can equal his talent for making military electronics and engineering intelligible and exciting...He remains the best!"—Houston Chronicle
A little more than thirty years ago Tom Clancy was a Maryland insurance broker with a passion for naval history. Years before, he had been an English major at Baltimore's Loyola College and had always dreamed of writing a novel. His first effort, The Hunt for Red October—the first of the phenomenally successful Jack Ryan novels—sold briskly as a result of rave reviews, then catapulted onto the New York Times bestseller list after President Reagan pronounced it "the perfect yarn." From that day forward, Clancy established himself as an undisputed master at blending exceptional realism and authenticity, intricate plotting, and razor-sharp suspense. He passed away in October 2013.