Strong Women and Men Beat Arthritis: Cutting-Edge Strategies for the Relief of Rheumatoid and Osteoarthritis
Spiral-Bound | March 4, 2003
Miriam E. Nelson Ph.D, Kristin Baker, Lawrence Lindner M.A., Ronenn Roubenoff
Rebinding by Spiralverse™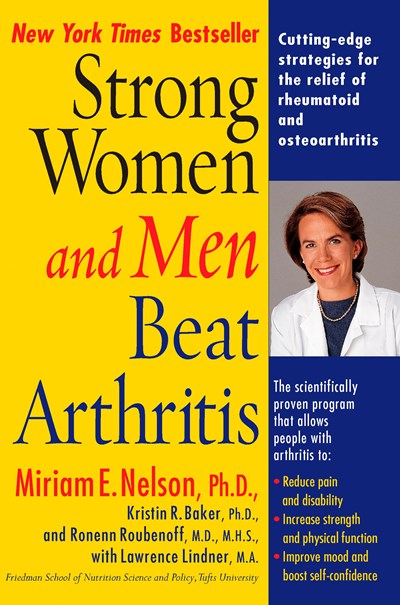 The
New York Times
bestselling author of
Strong Women Eat Well
and fellow Tufts University scientists present a simple plan that has been
proven
to reduce the pain and immobility caused by arthritis…
Strong Women and Men Beat Arthritis shows the direct connection between a strength-training program you can do at home and the reduction—and even prevention—of arthritis symptoms. No other research study using an exercise program has ever showed the results that the Tufts study achieved: a 43% reduction in pain, a 44% improvement in physical function, and a 71% improvement in strength. This book offers all the tools you need—and more:
· An exercise program designed specifically to protect the joints and relieve stiffness and soreness
· A scientifically based eating plan to reduce inflammation and pain
· A hands-on guide to the latest medications
· The real story on complementary therapies—which ones work? Which ones don't?
· ...
"Can you beat arthritis? Yes. With fundamentally sound advice and a program offered by real experts in the field…
Strong Women and Men Beat Arthritis
should be in the hands of people struggling with arthritis—and also in the hands of their doctors."—
Nancy L. Snyderman, M.D., Medical Correspondent, ABC News
"As an athlete who has had injuries, I am concerned about my muscles and joints. This is a program that is easy to follow. Strong Women and Men Beat Arthritis provides the tools and motivation to keep my joints healthy as I grow older."—Pam Shriver, Tennis Champion
"This clearly written self-care manual by Nelson…and her colleagues… should be a boon to arthritis sufferers…Extremely helpful."—Publishers Weekly
"Clear, practical, and scientifically-based advice to allow people to take control of their arthritis."—John H. Klippel, M.D., Medical Director, Arthritis Foundation
Lawrence Lindner, M.A., pens the monthly "Eating Right" column.