8 Minute Meditation Expanded: Quiet Your Mind. Change Your Life.
Spiral-Bound | December 2, 2014
Victor Davich
Rebinding by Spiralverse™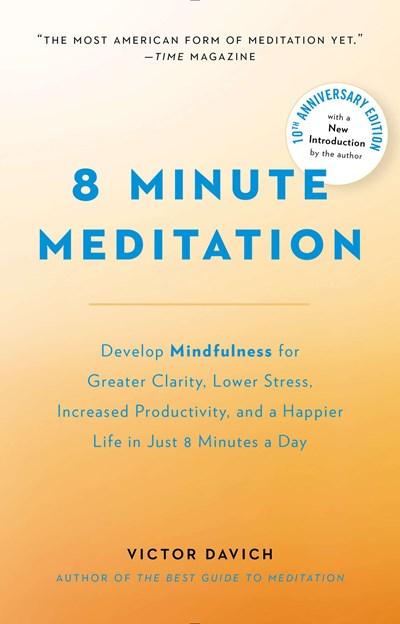 New and expanded, the bestselling, innovative program that advanced the mindfulness revolution

People are always looking for new ways to reduce stress, increase productivity, and lead more well-rounded, happier lives. Many have sought a solution in meditation. However, simple, clear instruction is often difficult to find, and most teachers and books make meditation seem like a chore—something you have to do for up to an hour each day.

8 Minute Meditation is the first program created to give beginners the exact tools they need to learn to meditate and do it in a time-frame that even the busiest people can easily handle: just 8 minutes a day.

The new tenth anniversary edition of 8 Minute Meditation surveys the latest mindfulness developments. It also contains the complete, original 8 Minute Meditation program, one of the all-time best-selling mindfulness programs in history. Features include clear, supportive step-by-step instruction, FAQs, and "troubleshooting" your mindfulness practice. All in the time between two television commercials!
"The most American form of meditation yet." —Time
"Indeed humorous, wise, effective, and resolutely nonsectarian." —Library Journal
Victor Davich is an authority on meditation and mindfulness. Sales of his best-selling meditation books currently exceed 150,000 copies. Victor's personal mindfulness practice proved invaluable in his positions as a copywriter, business affairs attorney, marketing executive, and producer for a number of Fortune 500 advertising agencies and motion picture studios, including Paramount Pictures.