Whole Health: A Holistic Approach to Healing for the 21st Century
Spiral-Bound | January 2, 2015
Mark Mincolla Ph.D., Bernie S. Siegel (Foreword by)
Rebinding by Spiralverse™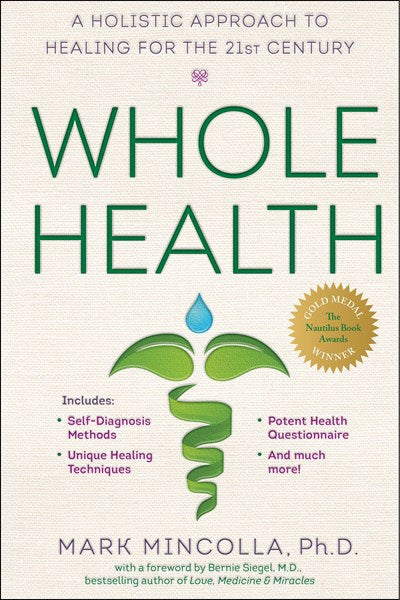 Be the healthiest you've ever been, and possess more vitality and energy, with the Whole Health Healing System!
Winner of the 2014 Nautilus Award represents "Better Books for a Better World"—the Gold Award (Best Book of the Year) in the category of Health & Healing/Wellness/Prevention/Vitality.
In
Whole Health
, Dr. Mark Mincolla outlines the Whole Health Healing System, his unique method based on more than thirty years' experience as a holistic medical practitioner. This system integrates elements of classical Chinese medicine, personalized nutrition, and extrasensory energy medicine, while inspiring, empowering, and teaching how to attain balance in body, mind, and spirit. This book will:
Assist in making sixth-sensory diagnoses of ailments
Help you achieve better health through specially tailored nutritional recommendations
Balance body, mind, and spirit with time-tested diagnostic tools, techniques, and meditations
And much more
This one-of-a-kind system will lead you down the path to natural healing and help you easily achieve physical health and spiritual oneness as never before.
"Mark Mincolla has put together a book of great value."
—Bernie Siegel, MD author of Faith, Hope & Healing and A Book of Miracles

"Thought-provoking and worthy of further investigation."
—Publishers Weekly

"In this compelling, ambitious book, natural health care practitioner Mark Mincolla proposes that all disease takes root at the energetic level, and by learning to identify the energy deficiencies and excesses that cause pain and sickness, we can enter a more vibrant state of being. In clear, precise language, Mincolla breaks down exactly how energy is transmitted through thoughts in the form of vibrations, and how these different frequencies have the power to hurt or heal. Whole Health spans epochs, weaving the healing properties of foods with the big bang theory, classical Chinese medicine, and our sixth sense. It's the perfect book for readers seeking to tie theories of energy and awareness to their daily practice, but beware: one must be ready for a mind-expanding paradigm shift."
—Spirituality & Health magazine

"Whole Health is loaded with many gems about health and wholeness. I highly recommend it/"
—Christiane Northrup, M.D.

"This is a must-read for all those searching for ways to increase their ability to take control of their nutritional, emotional, and physical well-being."
—Keith Ablow, M.D.

"Read this book and introduce yourself to the future of medicine, available to you right now."
—Dana Ullman, coauthor of Everybody's Guide to Homeopathic Medicine

"[Whole Health is] a synthesized whole-body program essential for any interested in overall health and how different emotional, physical, and spiritual systems interact. Add in appendixes packed with natural treatments for specific conditions from fibroids to Parkinson's disease and charts for body assessments and food and you have an important treatment that integrates many different holistic approaches to health."
—Midwest Book Review, D. Donovan, eBook Reviewer



Mark Mincolla, Ph.D., is a natural health care practitioner who has transformed thousands of lives over the past thirty years. He has integrated ancient Chinese energy techniques with cutting-edge nutritional science in his innovative Electromagnetic Muscle Testing system (EMT). Mincolla maintains a personal practice in Cohasset, Massachusetts, where he lives.