The Berenstain Bears and the Week at Grandma's
Spiral-Bound | August 12, 1986
Stan Berenstain, Jan Berenstain
Rebinding by Spiralverse™
★★★★☆+ from 1,001 to 10,000 ratings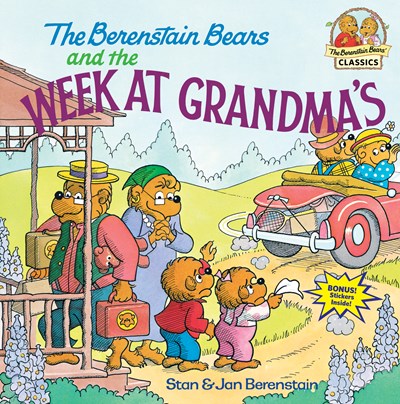 This beloved story is a perfect way to teach children about respecting their elders and about all the unique adventures they can have with an older generation! Perfect for a read-along this Mother's Day!

Come for a visit in Bear Country with this classic First Time Book® from Stan and Jan Berenstain. When Mama and Papa have to go out of town, Brother and Sister get to go and stay with their grandparents. It will be a fun-filled visit where the cubs will eat cookies, explore the attic, fish, and even attend a hoedown! Includes over 50 bonus stickers!
Stan and Jan Berenstain were already successful cartoonists for magazines and adult humor books when they began writing children's books. The first story starring the bear family, The Big Honey Hunt, appeared in 1962. Since then, more than 360 Berenstain Bears books have been published, and more than 300 million copies have been sold. What began as an idea sparked by their young sons' love of reading has become one of the best-selling children's book series ever.