Hattie Big Sky
Spiral-Bound | December 23, 2008
Kirby Larson
Rebinding by Spiralverse™
★★★★☆+ from 10,001 to 50,000 ratings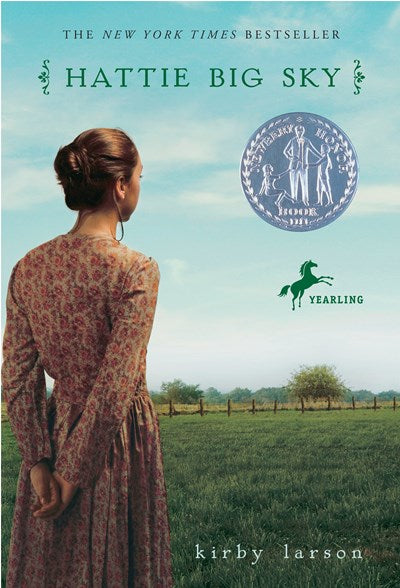 NEW YORK TIMES BESTSELLER • NEWBERY HONOR AWARD WINNER

A classic YA novel about a teenage girl searching for a sense of home and family that celebrates the true spirit of independence on the American frontier.

For most of her life, sixteen-year-old Hattie Brooks has been shuttled from one distant relative to another. Tired of being Hattie Here-and-There, she summons the courage to leave Iowa and move all by herself to Vida, Montana, to prove up on her late uncle's homestead claim.

Under the big sky, Hattie braves hard weather, hard times, a cantankerous cow, and her own hopeless hand at the cookstove. Her quest to make a home is championed by new neighbors Perilee Mueller, her German husband, and their children. For the first time in her life, Hattie feels part of a family, finding the strength to stand up against Traft Martin's schemes to buy her out and against increasing pressure to be a "loyal" American at a time when anything—or anyone—German is suspect. Despite daily trials, Hattie continues to work her uncle's claim until an unforeseen tragedy causes her to search her soul for the real meaning of home.

This young pioneer's story is lovingly stitched together from Kirby Larson's own family history and the sights, sounds, and scents of homesteading life.
AN AMERICAN LIBRARY ASSOCIATION BEST BOOK FOR YOUNG ADULTS
A SCHOOL LIBRARY JOURNAL BEST BOOK
A BOOKLIST EDITORS' CHOICE
NAMED TO 13 STATE AWARD LISTS

★"Larson creates a masterful picture of the homesteading experience and the people who persevered."–School Library Journal, starred review

"A marvelous story about courage, loyalty, perseverance, and the meaning of home." --Newbery Award-Winning Author Karen Cushman
After Kirby Larson heard a snippet of a story about her great-grandmother homesteading in eastern Montana, she spent three years working on this story. The author lives in Kenmore, WA.