What Makes the Great Great: Strategies for Extraordinary Achievement
Spiral-Bound | January 20, 1998
Dennis Kimbro
Rebinding by Spiralverse™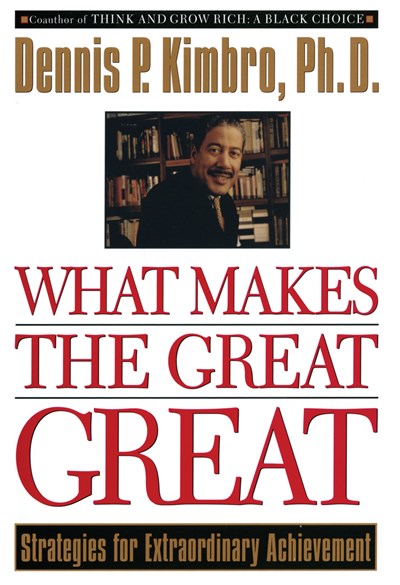 Part vocational pep rally, part how-to book, in What Makes the Great Great, bestselling author Dennis Kimbro explores the strategies and thought processes of successful African-Americans.

What Makes the Great Great elaborates on the inspiring message Dennis Kimbro put forth in his first book Think and Grow Rich--A Black Choice. Through dozens of interviews and the inspirational stories of people like John H. Johnson, Publisher of Ebony magazine, Condoleeza Rice, Provost of Stanford University, and Ann Fudge, President of Maxwell House Coffee, Dr. Kimbro outlines the nine strategies that determine success.

According to Dr. Kimbro, being great depends on a commitment to making dreams come true: "All high achievers make choices, not excuses." We all have the seeds of greatness in us, and his book gives readers the tools to discover and nurture those seeds, showing them how to motivate themselves to master every aspect of their lives.
Dennis Kimbro, PhD, is the author of Think and Grow Rich: A Black Choice and Daily Motivations for African-American Success. A tireless educator, public speaker, and business consultant, he has written for numerous newspapers and magazines and has made many appearances on programs ranging from Today to the PBS special The Legacy of Achievement with Dennis Kimbro. He is a professor at Clark Atlanta University School of Business. Dr. Kimbro is married and the father of three daughters and has three grandchildren. He lives in Atlanta, Georgia.