The Lost Wife: A novel
Spiral-Bound | April 4, 2023
Susanna Moore
Rebinding by Spiralverse™
★★★☆☆+ from 501 to 1,000 ratings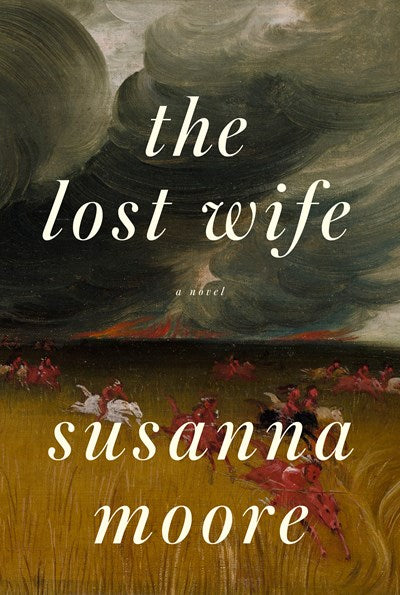 A MOST ANTICIPATED BOOK • This immersive, brilliantly subversive historical novel, inspired by a true story, is "set in 1855, follows 25-year-old Sarah Browne as she…heads west to the Minnesota Territory…When the Sioux Uprising of 1862 erupts…Sarah and her children are captured, but protected by the Sioux. Sarah sympathizes with her captors, and slips into the gap between her two worlds" (TIME).

"The story has it all: the bloody hell of war…revenge, corruption, injustice. Even some romance…A vivid tale of frontier adventure and peril." —Minneapolis Star-Tribune

One of our most compelling and sensual writers brings to life a devastating Native American revolt and the woman caught in the middle of the conflict in this novel about a seminal and shameful moment in America's conquest of the West.

In the summer of 1855, Sarah Brinton abandons her husband and child to make the long and difficult journey from Rhode Island to Minnesota Territory, where she plans to reunite with a childhood friend. When she arrives at a small frontier post on the edge of the prairie without family or friends and with no prospect of work or money, she quickly remarries and has two children. Anticipating unease and hardship at the Indian Agency, where her husband Dr. John Brinton is the new resident physician, Sarah instead finds acceptance and kinship among the Sioux women at a nearby reservation.

The Sioux tribes, however, are wary of the white settlers and resent the rampant theft of their land. Promised payments by the federal government are never made, and starvation and disease soon begin to decimate their community. Tragically and inevitably, this leads to the Sioux Uprising of 1862. During the conflict, Sarah and her children are abducted by the Sioux, who protect her, but because she sympathizes with her captors, Sarah becomes an outcast to the white settlers. In the end, she is lost to both worlds.

Intimate and raw, The Lost Wife is a searing tale of the conquest of the American West.
A MOST ANTICIPATED BOOK from Vogue and TIME Magazine
A BEST BOOK OF SPRING 2023 from Esquire

"The Lost Wife is a terse novel, finely written, that underscores the plight of both white women and Indians subjected to the tyranny of the white man's world."
—The Denver Post

"A masterwork of historical fiction. . . . Beautiful and stark as an American prairie, The Lost Wife evokes a profound sense of time, place, and moral clarity."
—Esquire, "The Best Books of Spring 2023"

"In her searing new novel, The Lost Wife. . . . [Susanna Moore] writes of the past with quiet insight through the eyes of women who . . . frequently move from a form of innocence to some collision with history. . . . As in all Moore's writing, the details are tartly precise. So are her striking observations, offered without sentimentality or fanfare. . . . [a] beautifully crafted novel. . . . Moore is a strong and inventive writer."
—The New York Review of Books

"A clear-eyed and riveting account of one woman's journey into a so-called land of opportunity. . . . In the novel's apparently peaceful ending there is the violence of oppression, the oppression that shapes the US to this day. This compact narrative is a brief, harsh glimpse of the bloody past that stains the present."
—The Guardian

"Understated, matter-of-fact, with moments of tentative beauty. . . . [The Lost Wife] brings to light an important, and tragic, part of American history."
—Historical Novel Society

"The story has it all: the bloody hell of war . . . revenge, corruption, injustice. Even some romance. Is that Netflix calling? . . . A vivid tale of frontier adventure and peril."
—Minneapolis Star-Tribune

"A vivid tale."
—People

"Susanna Moore's remarkable new novel. . . . based on a true account of . . . the Sioux Uprising of 1862. . . . [is] thrilling. . . . an emotionally intense portrait of a resourceful woman whose courage—and conscience—will be horrible tested by war and barbarism. . . . While the tone of The Lost Wife is intimate, the sweep of history and of a vast continent is palpable. . . Moore's control never falters."
—The Wall Street Journal

"A stirring portrait of the American West. . . . [The Lost Wife] captures . . . the lost wives and lost souls whose illusions had carried them to a vaunted frontier whose promise had become saturated in blood . . . Moore's steely vision of the American West recognizes few, if any, heroes. The result is a repudiation—solemn yet stirring—of the idealized fable of the American West."
—The Washington Post

"Susanna Moore's eighth novel, set in 1855, follows 25-year-old Sarah Browne as she . . . heads west to the Minnesota Territory. . . . When the Sioux Uprising of 1862 erupts—after the federal government never fulfills its promise of payments to the tribe—Sarah and her children are captured, but protected by the Sioux. Sarah sympathizes with her captors, and slips into the gap between her two worlds. The Lost Wife illustrates the devastating outcomes of oppression."
—TIME, "Here Are the 14 New Books You Should Read in April"

"Moore graces us with another [novel] this spring . . . a welcome new display of her masterful approach to the undercurrent of violence that she believes runs beneath all human behavior. . . .The Lost Wife is its own kind of crime story. . . . Her deceptively simple sentences are like geysers. The churning energy underneath is violent, animal and sexual."
—The Los Angeles Times

"Moore is often called a "cult" writer. I find her to be one of the most compelling novelists alive. . . . [The Lost Wife is] concise and brutally incisive. . . . As ever, Susanna Moore is unflinching."
—Stephanie Danler, Air Mail, "Susanna Moore Isn't Done Running Away"

"It's fitting that The Lost Wife . . . should directly follow Miss Aluminum, [Moore's] lustrous 2020 memoir; this book, like that one, tells the story of a woman continuously transformed by difficult relationships and sweeping changes of circumstance. . . . Moore's voice is cool and sure, rich with detail."
—Vogue, "Book It"

"Her writing is so precise and perceptive, so disturbing, frightening and erotic all at once . . . this profoundly clever woman with her life in her hands."
—Lucie Whitehouse, author of Before We Met

"Susanna Moore belongs to a small class of writers whose work performs the paradoxical miracle of giving solace by offering none."
—The Writer

"Moore (In the Cut) returns with a bracing and daring account of a woman who tries to build a new life on the American frontier. . . . This is a masterwork of Americana."
—Publishers Weekly, starred review

"Based partly on a woman's account of her abduction along with her children during the Sioux Uprising in 1862, Moore's novel is a tense, absorbing tale of adversity and survival. . . . Moore has imagined a brave, perceptive woman with no illusions about the hypocrisy of those who proclaim themselves civilized. . . . A devastating tale rendered with restrained serenity."
—Kirkus Reviews, starred review

"Moore's powerful story dramatizes tyranny against women and brutality and injustice against Native Americans, reminding us of the many untold tragedies that shape our history."
—Booklist

"A breathtaking tale of love and war on the 19th century American frontier. . . . Susanna Moore's impressively taut and evocative new novel, The Lost Wife . . . brings life on the frontier into vivid, often brutal focus through the prism of female experience."
—The Telegraph (UK)

"[A] compelling tale of survival, loyalty and exploitation."
—The Bookseller (UK)
SUSANNA MOORE's The Big Girls, In the Cut, My Old Sweetheart, One Last Look, Sleeping Beauties, and The Whiteness of Bones are available in paperback from Vintage Books.

Author Residence: New York, NY