Lidia's Mastering the Art of Italian Cuisine: Everything You Need to Know to Be a Great Italian Cook: A Cookbook
Spiral-Bound | October 27, 2015
Lidia Matticchio Bastianich, Tanya Bastianich Manuali
Rebinding by Spiralverse™
★★★★☆+ from 101 to 500 ratings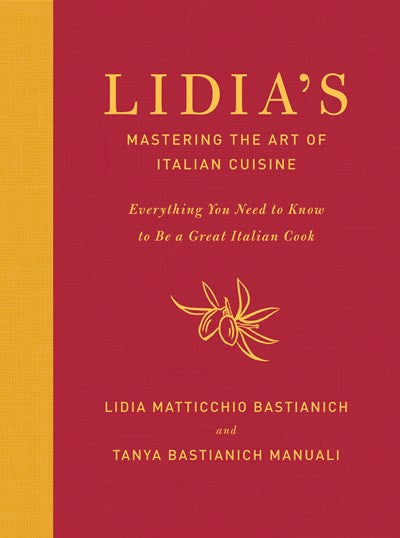 The ultimate master class—covering everything from ingredients to techniques to tools, plus more than 400 delectable recipes—from the Emmy-winning host of Lidia's Kitchen, best-selling author, and beloved ambassador for Italian culinary traditions in America

Teaching has always been Lidia's passion, and in this magnificent book she gives us the full benefit of that passion and of her deep, comprehensive understanding of what it takes to create delicious Italian meals. With this book—coauthored with her daughter, Tanya—readers will learn all the techniques needed to master Italian cooking.

Lidia introduces us to the full range of standard ingredients—meats and fish, vegetables and fruits, grains, spices and condiments—and how to buy, store, clean, and cook with them. The 400 recipes run the full gamut from classics like risotto alla milanese and Tagliatelle with Mushroom Sauce to Lidia's always-satisfying originals like Bread and Prune Gnocchi and Beet Ravioli in Poppy Seed Sauce. She gives us a comprehensive guide to the tools every kitchen should have to produce the best results. And she has even included a glossary of cuisine-related words and phrases that will prove indispensable for cooking, as well as for traveling and dining in Italy.

There is no other book like this; it is the one book on Italian cuisine that every cook will need.
"One of America's great Italian cooks. . . . A collection of more than 400 of [Lidia's] favorite recipes, from a wide enough range of categories that you could cook quite happily from it for several years." —Los Angeles Times

"A kind of accessible one-stop shopping for the gastronomy of Italy." —NPR

"You'll come away knowing how to gauge the freshness of an artichoke (it should squeak when squeezed), how to make a delicious simple cacio e pepe (cheese and pepper) pasta dish for 'days when you need simplicity in your life but still want a wallop of flavor'; and how to tell a trattoria from an osteria in Italy (the former has tablecloths and service; the latter is more informal with no linens and often has shared tables)." —Chicago Tribune

"The sort of book that will inevitably be well-used and well-loved." —Eater
LIDIA MATTICCHIO BASTIANICH is the author of twelve previous books and the Emmy award-wining host of Public Television's Lidia's Kitchen which also airs internationally in territories that include Mexico, Canada, the Middle East, Croatia, and the UK. She is also a judge on Masterchef Jr. Italy, and owns Felidia, Becco, and several other restaurants, and is a partner in the acclaimed Eataly in New York, Chicago, and Sao Paolo, Brazil. She lives on Long Island, New York.


TANYA BASTIANICH MANUALI received her PhD in Renaissance art history from Oxford University, her MA from Syracuse University, and her BA from Georgetown University. She is the founder of an Italian food and wine tour company, Esperienze Italiane, the owner and Executive Producer at Tavola Productions, and manages the Lidia brand and food line. She co-authors cookbooks with her mother and brother and lives on Long Island in New York.