The Racketeer: A Novel
Spiral-Bound | August 27, 2013
John Grisham
Rebinding by Spiralverse™
★★★☆☆+ from 50,001 + ratings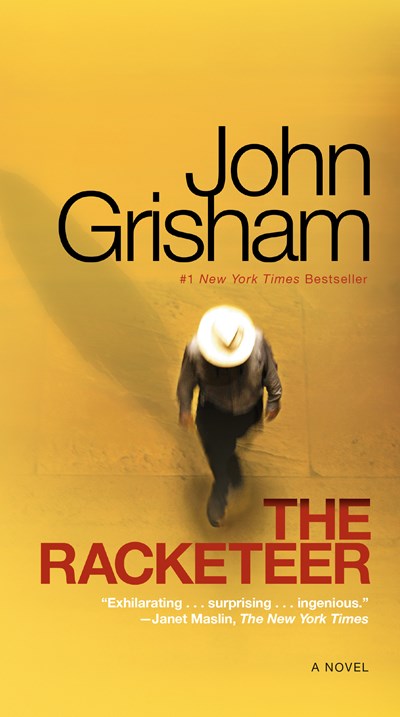 #1 NEW YORK TIMES BESTSELLER • "The Racketeer is guilty of only one thing: keeping us engaged until the very last page."—USA Today • In the history of the United States, only four active federal judges have been murdered. Judge Raymond Fawcett has just become number five.

His body is found in his remote lakeside cabin. There is no sign of forced entry or struggle. Just two dead bodies: Judge Fawcett and his young secretary. And one large, state-of-the-art, extremely secure safe, opened and emptied.

One man, a former attorney, knows who killed Judge Fawcett, and why. But that man, Malcolm Bannister, is currently residing in the Federal Prison Camp near Frostburg, Maryland. Though serving time, Malcolm has an ace up his sleeve. He has information the FBI would love to know. Malcolm would love to tell them. But everything has a price—and the man known as the Racketeer wasn't born yesterday.

Don't miss John Grisham's new book, THE EXCHANGE: AFTER THE FIRM, coming soon!
"Exhilarating . . . surprising . . . ingenious."—Janet Maslin, The New York Times

"The Racketeer is guilty of only one thing: keeping us engaged until the very last page."—USA Today

"A satisfying, deeply engrossing thriller in which different forms of justice are ultimately served."—The Washington Post

"Fast-paced . . . with enough startling plot twists—and changes of scenery, from Miami to Montego Bay and beyond—to surprise even the most suspicious reader."—The Wall Street Journal

"Tautly plotted."—Entertainment Weekly
John Grisham is the author of forty-seven consecutive #1 bestsellers, which have been translated into nearly fifty languages. His recent books include The Judge's List, Sooley, and his third Jake Brigance novel, A Time for Mercy, which is being developed by HBO as a limited series.

Grisham is a two-time winner of the Harper Lee Prize for Legal Fiction and was honored with the Library of Congress Creative Achievement Award for Fiction.

When he's not writing, Grisham serves on the board of directors of the Innocence Project and of Centurion Ministries, two national organizations dedicated to exonerating those who have been wrongfully convicted. Much of his fiction explores deep-seated problems in our criminal justice system.

John lives on a farm in central Virginia.