Hell's Angels: A Strange and Terrible Saga
Spiral-Bound | September 29, 1996
Hunter S. Thompson
Rebinding by Spiralverse™
★★★☆☆+ from 10,001 to 50,000 ratings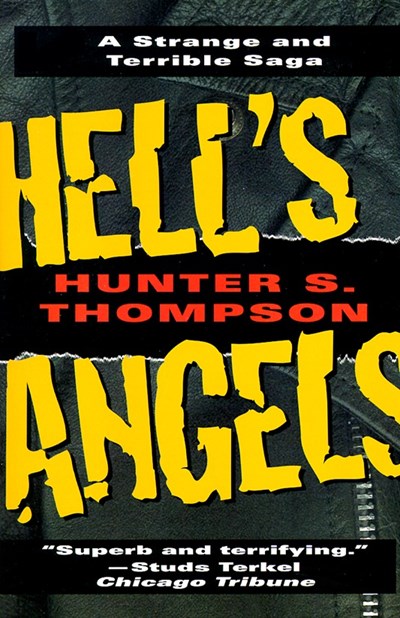 Gonzo journalist and literary roustabout Hunter S. Thompson flies with the angels—Hell's Angels, that is—in this short work of nonfiction.

"California, Labor Day weekend . . . early, with ocean fog still in the streets, outlaw motorcyclists wearing chains, shades and greasy Levis roll out from damp garages, all-night diners and cast-off one-night pads in Frisco, Hollywood, Berdoo and East Oakland, heading for the Monterey peninsula, north of Big Sur. . . The Menace is loose again."

Thus begins Hunter S. Thompson's vivid account of his experiences with California's most notorious motorcycle gang, the Hell's Angels. In the mid-1960s, Thompson spent almost two years living with the controversial Angels, cycling up and down the coast, reveling in the anarchic spirit of their clan, and, as befits their name, raising hell. His book successfully captures a singular moment in American history, when the biker lifestyle was first defined, and when such countercultural movements were electrifying and horrifying America. Thompson, the creator of Gonzo journalism, writes with his usual bravado, energy, and brutal honesty, and with a nuanced and incisive eye; as The New Yorker pointed out, "For all its uninhibited and sardonic humor, Thompson's book is a thoughtful piece of work." As illuminating now as when originally published in 1967, Hell's Angels is a gripping portrait, and the best account we have of the truth behind an American legend.
"Thompson has presented us with a close view of a world most of us would never encounter. His language is brilliant, his eye remarkable."
--The New York Times Book Review

"Superb and terrifying." --Studs Terkel, Chicago Tribune
The Modern Library has played a significant role in American cultural life for the better part of a century. The series was founded in 1917 by the publishers Boni and Liveright and eight years later acquired by Bennett Cerf and Donald Klopfer. It provided the foundation for their next publishing venture, Random House. The Modern Library has been a staple of the American book trade, providing readers with affordable hardbound editions of important works of literature and thought. For the Modern Library's seventy-fifth anniversary, Random House redesigned the series, restoring as its emblem the running torchbearer created by Lucian Bernhard in 1925 and refurbishing jackets, bindings, and type, as well as inaugurating a new program of select-ing titles. The Modern Library continues to provide the world's best books, at the best prices.