The High Sierra: A Love Story
Spiral-Bound | May 10, 2022
Kim Stanley Robinson
Rebinding by Spiralverse™
★★★★☆+ from 501 to 1,000 ratings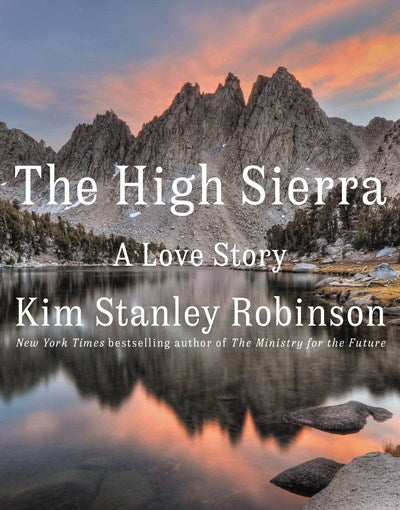 A "sublime" and "radically original" exploration of the Sierra Nevadas, the best mountains on Earth for hiking and camping, from New York Times bestselling novelist Kim Stanley Robinson (Bill McKibben, Gary Snyder).
Kim Stanley Robinson first ventured into the Sierra Nevada mountains during the summer of 1973. He returned from that encounter a changed man, awed by a landscape that made him feel as if he were simultaneously strolling through an art museum and scrambling on a jungle gym like an energized child. He has returned to the mountains throughout his life—more than a hundred trips—and has gathered a vast store of knowledge about them.
The High Sierra
is his lavish celebration of this exceptional place and an exploration of what makes this span of mountains one of the most compelling places on Earth.
Over the course of a vivid and dramatic narrative, Robinson describes the geological forces that shaped the Sierras and the history of its exploration, going back to the indigenous peoples who made it home and whose traces can still be found today. He celebrates the people whose ideas and actions protected the High Sierra for future generations. He describes uniquely beautiful hikes and the trails to be avoided. Robinson's own life-altering events, defining relationships, and unforgettable adventures form the narrative's spine. And he illuminates the human communion with the wild and with the sublime, including the personal growth that only seems to come from time spent outdoors.
The High Sierra
is a gorgeous, absorbing immersion in a place, born out of a desire to understand and share one of the greatest rapture-inducing experiences our planet offers. Packed with maps, gear advice, more than 100 breathtaking photos, and much more, it will inspire veteran hikers, casual walkers, and travel readers to prepare for a magnificent adventure.
"A titan of science fiction masters a new form in this winsome love letter to California's Sierra Nevada mountain range. Constructed from an impassioned blend of memoir, history, and science writing, The High Sierra chronicles Robinson's 100-plus trips to his beloved mountains… From descriptions of the region's multitudinous flora and fauna to practical advice about when and where to hike, this is as comprehensive a guidebook as any, complete with all the lucid ecstasy of nature writing greats like John Muir and Annie Dillard."—Adrienne Westenfeld, Esquire
Kim Stanley Robinson is a New York Times bestseller and winner of the Hugo, Nebula, and Locus awards. He is the author of more than twenty books, including the bestselling Mars trilogy and the critically acclaimed 2312, Shaman, New York 2140, and The Ministry for the Future. He traveled in Antarctica twice, courtesy of the US National Science Foundation. In 2008, he was named a "Hero of the Environment" by Time magazine, and he works with the Sierra Nevada Research Institute. He lives in Davis, California.