Emotional Inheritance: A Therapist, Her Patients, and the Legacy of Trauma
Spiral-Bound | January 25, 2022
Galit Atlas
Rebinding by Spiralverse™
★★★★☆+ from 1,001 to 10,000 ratings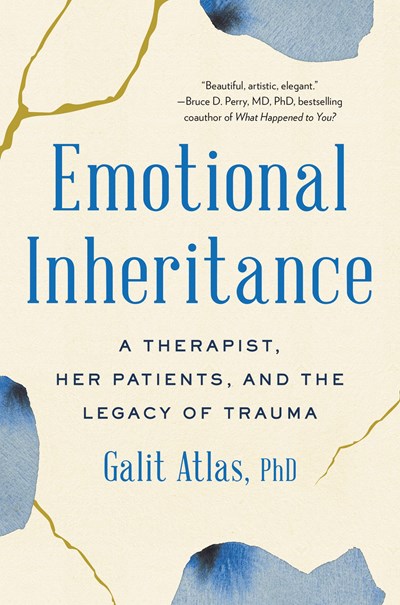 Award-winning psychoanalyst Dr. Galit Atlas draws on her patients' stories—and her own life experiences—to shed light on how generational trauma affects our lives in this "intimate, textured, compassionate" book (Jon Kabat-Zinn, author of The Healing Power of Mindfulness).
The people we love and those who raised us live inside us; we experience their emotional pain, we dream their memories, and these things shape our lives in ways we don't always recognize.
Emotional Inheritance
is about family secrets that keep us from living to our full potential, create gaps between what we want for ourselves and what we are able to have, and haunt us like ghosts.
In this transformative book, Galit Atlas entwines the stories of her patients, her own stories, and decades of research to help us identify the links between our life struggles and the "emotional inheritance" we all carry. For it is only by following the traces those ghosts leave that we can truly change our destiny.
"An intimate, textured, and compassionate exploration of intergenerational trauma, how it is carried and transmitted within families, and how it can be skillfully invited in, recognized, attenuated, and perhaps resolved through the therapeutic relationship, metabolizing what has hitherto not been named or nameable."—Jon Kabat-Zinn, author of The Healing Power of Mindfulness
Galit Atlas, PhD, is a psychoanalyst and clinical supervisor in private practice in New York City. She is on the faculty of the New York University Postdoctoral Program in Psychotherapy & Psychoanalysis. She is a faculty member of the National Training Programs (NTP) and the Four Year Adult training program of the National Institute for the Psychotherapies (NIP). Dr. Atlas has published three books for clinicians and numerous articles and book chapters that focus primarily on gender and sexuality. Her New York Times publication "A Tale of Two Twins" was the winner of a 2016 Gradiva Award. A leader in the field of relational psychoanalysis, Dr. Atlas is a recipient of the Andre Francois Research Award and the NADTA Research Award. She teaches and lectures throughout the United States and internationally.