One Dark Window
Spiral-Bound | September 27, 2022
Rachel Gillig
Rebinding by Spiralverse™
★★★★☆+ from 10,001 to 50,000 ratings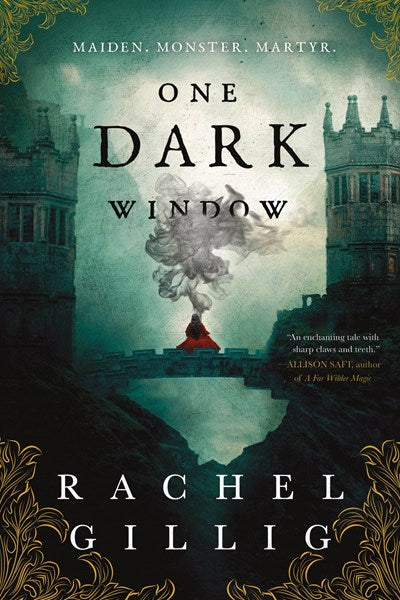 THE FANTASY BOOKTOK SENSATION!

For fans of Uprooted and For the Wolf comes a dark, lushly gothic fantasy about a maiden who must unleash the monster within to save her kingdom—but the monster in her head isn't the only threat lurking.

Elspeth needs a monster. The monster might be her.

Elspeth Spindle needs more than luck to stay safe in the eerie, mist-locked kingdom she calls home—she needs a monster. She calls him the Nightmare, an ancient, mercurial spirit trapped in her head. He protects her. He keeps her secrets.
But nothing comes for free, especially magic.
When Elspeth meets a mysterious highwayman on the forest road, her life takes a drastic turn. Thrust into a world of shadow and deception, she joins a dangerous quest to cure the kingdom of the dark magic infecting it. Except the highwayman just so happens to be the King's own nephew, Captain of the Destriers…and guilty of high treason.
He and Elspeth have until Solstice to gather twelve Providence Cards—the keys to the cure. But as the stakes heighten and their undeniable attraction intensifies, Elspeth is forced to face her darkest secret yet: the Nightmare is slowly, darkly, taking over her mind. And she might not be able to stop him.
"Thick fog, shifting alliances, and clever magic make the perfect backdrop for a sweeping romance—One Dark Window is enthralling from beginning to shocking end."—Hannah Whitten, NYT bestselling author of For the Wolf
Rachel Gillig was born and raised on the California coast. She is a writer and a teacher, with a B.A. in Literary Theory and Criticism from UC Davis. If she is not ensconced in blankets dreaming up her next novel, Rachel is in her garden or walking with her husband, son, and their poodle, Wally.