CatStronauts: Space Station Situation
Spiral-Bound | October 31, 2017
Drew Brockington
Rebinding by Spiralverse™
★★★★☆+ from 501 to 1,000 ratings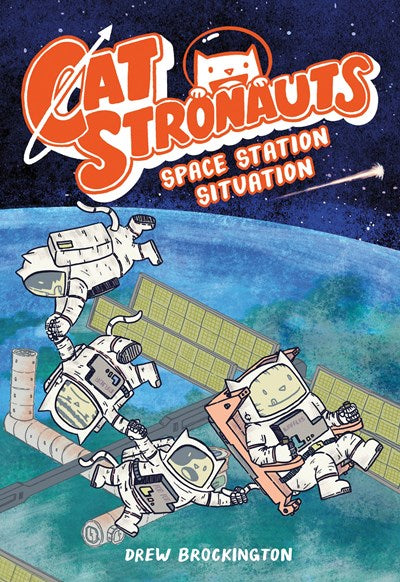 In the third book in the CatStronauts graphic novel series, your favorite elite team of cat astronauts is a member short--one of the team has quit!

When chief science officer Pom Pom rejoins the CatStronauts on the International Space Station, she has to get to work right away--the Hubba Bubba Telescope isn't working, and CATSUP is losing funding by the day!

But as the CatStronauts and Mission Control race to find answers, the unthinkable happens and pilot Waffles is forced to orbit the Earth in nothing but his space suit. Even though he's no scaredy cat, Waffles has a hard time staying out in space. When disaster on a global scale rears its head, will a fractured CatStronauts team be enough to save the day?

In this full color graphic novel, debut author/illustrator Drew Brockington takes the CatStronauts to the brink, adding in mounds of jokes, charm, asteroid showers, and enough tuna for everyone!
Praise for CatStronauts:
"With its appealing blend of cuteness, substance, and humor, this should have readers over the moon. "—Kirkus Reviews
"Brockington's off-the-wall kitty sci-fi series packs the full-color panels with cute cats, space travel, and comical high jinks... sure to elicit lots of giggles among middlegrade comics fans."—Booklist
"The engagingly lighthearted drama and positive resolutions, and the expressive characters, who are as adorable as they are adventurous, provide... fun purchases that will do well on their own or paired with heavier nonfiction titles on history or the environment."

—School Library Journal
"Humor and suspense compete throughout... In playful, mock-heroic, full-color cartoons, Brockington mines space theater for everything.... Even the chapter headings get in on the fun."—Publishers Weekly
"There's lots of enthusiasm for graphic novels for this age range, and the CatStronauts deserve a spot."—BCCB
Drew Brockington has flown a Space Shuttle, repaired the International Space Station, and served in Mission Control; all during a week at Space Camp. CatStronauts is his first series. He lives with his family in Minneapolis.