Claudette Colvin: Twice Toward Justice
Spiral-Bound | December 21, 2010
Phillip Hoose
Rebinding by Spiralverse™
★★★★☆+ from 1,001 to 10,000 ratings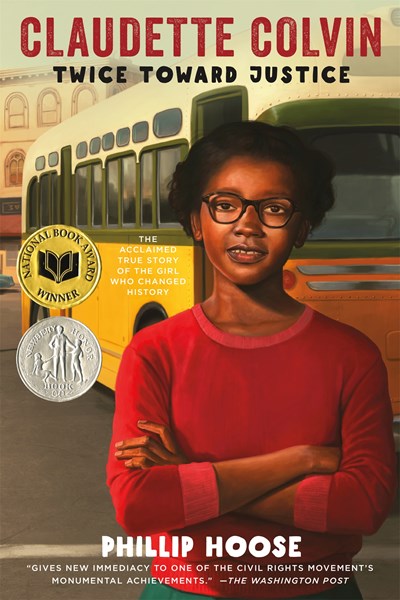 Before Rosa Parks, there was 15-year-old Claudette Colvin. Now available in paperback: her National Book Award-wining story, told by the incomparable Phillip Hoose.
"When it comes to justice, there is no easy way to get it. You can't sugarcoat it. You have to take a stand and say, 'This is not right.'" - Claudette Colvin
On March 2, 1955, an impassioned teenager, fed up with the daily injustices of Jim Crow segregation, refused to give her seat to a white woman on a segregated bus in Montgomery, Alabama. Instead of being celebrated as Rosa Parks would be just nine months later, fifteen-year-old Claudette Colvin found herself shunned by her classmates and dismissed by community leaders. Undaunted, a year later she dared to challenge segregation again as a key plaintiff in Browder v. Gayle, the landmark case that struck down the segregation laws of Montgomery and swept away the legal underpinnings of the Jim Crow South.
Based on extensive interviews with Claudette Colvin and many others, Phillip Hoose presents the first in-depth account of an important yet largely unknown civil rights figure, skillfully weaving her dramatic story into the fabric of the historic Montgomery bus boycott and court case that would change the course of American history.
Claudette Colvin is the 2009 National Book Award Winner for Young People's Literature and a 2010 Newbery Honor Book.
Hoose's evenhanded account investigates Colvin's motives and influences, and carefully establishes the historical context so that readers can appreciate both Colvin's maturity and bravery and the boycott leadership's pragmatism.
Phillip Hoose is an award-winning author of books, essays, stories, songs and articles. Although he first wrote for adults, he turned his attention to children and young adults in part to keep up with his own daughters. Claudette Colvin won a National Book Award and was dubbed a Publishers Weekly Best Book of 2009. He is also the author of Hey, Little Ant, co-authored by his daughter, Hannah, It's Our World, Too!, The Race to Save the Lord God Bird, and We Were There, Too!, a National Book Award finalist. He has received a Jane Addams Children's Book Award, a Christopher Award, and a Boston Globe-Horn Book Award, among numerous honors. He was born in South Bend, Indiana, and grew up in the towns of South Bend, Angola, and Speedway, Indiana. He was educated at Indiana University and the Yale School of Forestry. He lives in Portland, Maine.