Do Unto Otters: A Book About Manners
Spiral-Bound | September 1, 2009
Laurie Keller, Laurie Keller (Illustrated by)
Rebinding by Spiralverse™
★★★★☆+ from 1,001 to 10,000 ratings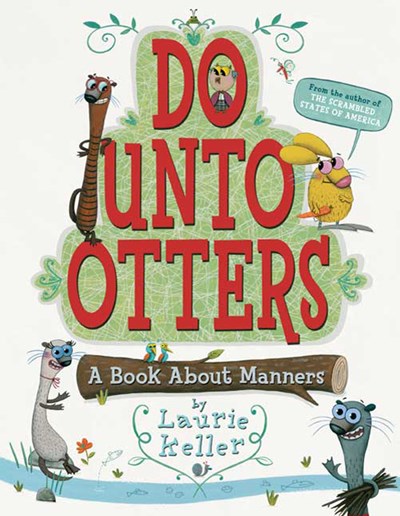 Join Mr. Rabbit in exploring the Golden Rule: Do unto Otters as you would have Otters do unto you!
"Do not do to others that which would anger you if others did it to you."
—Socrates (the Greek philosopher), circa 470-399 B.C.

Mr. Rabbit's new neighbors are Otters.
OTTERS!
But he doesn't know anything about otters. Will they get along? Will they be friends?
Just treat otters the same way you'd like them to treat you, advises Mr. Owl.

In her smart, playful style Laurie Keller highlights how to be a good friend and neighbor—simply follow the Golden Rule!
Do Unto Otters is a 2008 Bank Street - Best Children's Book of the Year.
"Keller serves up sound, friendly advice for maintaining a peaceable kingdom."—Publishers Weekly

"Each page bursts with colorful illustrations and is scattered with words of different sizes and fonts. This simple story is certain to appeal to children."—School Library Journal

"While kids may well have encountered the Golden Rule elsewhere, this explanation and elaboration nicely unifies what might otherwise seem like a dreary list of manners. This lively book is anything but."—Kirkus Reviews
Laurie Keller is the acclaimed author-illustrator of Arnie, the Doughnut, The Scrambled States of America, and Open Wide: Tooth School Inside, among numerous others. She grew up in Muskegon, Michigan, and always loved to draw, paint and write stories. She earned a B.F.A. at Kendall College of Art and Design, then worked at Hallmark as a greeting card illustrator for seven-and-a-half years, until one night she got an idea for a children's book. She quit her job, moved to New York City, and soon had published her first book. She loved living in New York, but she has now returned to her home state, where she lives in a little cottage in the woods on the shore of Lake Michigan.