The Beginner's Bible All About Jesus Sticker and Activity Book
Spiral-Bound | August 4, 2015
The Beginner's Bible, Kelly Pulley (Illustrated by)
Rebinding by Spiralverse™
★★★★☆+ from Up to 30 ratings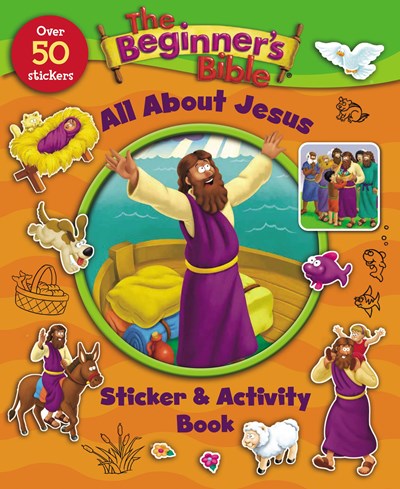 The life of Jesus comes alive through age-appropriate puzzles, activity pages, and 50 reusable stickers in this friendly and fun sticker and activity book featuring The Beginner's Bible classic art and simply written content.
If your family is a fan of The Beginner's Bible, your children will enjoy The Beginner's Bible All About Jesus Sticker and Activity Book, featuring The Beginner's Bible classic art and easy-to-understand written content.
Young readers will read, learn, and color their way through stories of the disciples, Mary and Joseph, and other key Bible characters. The life of Jesus connects with young readers through this activity book, which includes:
16 pages of fun content and child-friendly text highlighting the life of Jesus
Over 50 reusable stickers
Hours of age-appropriate activities, mazes, and puzzles
Easy to follow Bible teachings
The Beginner's Bible All About Jesus Sticker and Activity Book is perfect for:
Kids ages 3–7
Road trips, Easter baskets, Christmas stocking stuffers, or birthdays
Children's ministry small group activity time
The All About Jesus Sticker Book from the creators of the best-selling 'Beginner's Bible' series uses sixteen colorful, oversized pages filled with stickers, puzzles and activities to teach about Jesus. While the sticker book briefly mentions Jesus' birth and resurrection the primary focus is the life and ministry of Christ which makes it a wonderful supplement for basic Bible or Sunday school teachings. Hands on activities include easy word puzzles, mazes, matching pictures to stories, finding hidden objects and coloring pictures in addition to completing pictures with puzzle shaped reusable stickers. Short, paraphrased Bible stories along page bottoms are simple and accurate. The fifty plus re-useable stickers can be used time and time again. Although recommended for children aged 4-8 some activities are more for early elementary ages and the book is better suited to ages 3-7. The solid biblical teaching and reasonable price make 'The Beginner's Bible All about Jesus Sticker and Activity Book' an attractive choice for Christmas.
The Beginner's Bible is the bestselling storybook Bible of all time. What started out as a storybook Bible for young children has grown to be a well-known brand, with many titles, all with the highly popular and easy-to-recognize The Beginner's Bible artwork. Every title that is part of The Beginner's Bible is written especially for the youngest readers just learning to love God's Word. Some The Beginner's Bible titles include: The Beginner's Bible, The Beginner's Bible 365 Devotions for Kids, The Beginner's Bible All Aboard with Noah!, and many more, including I Can Read Bible stories written at the My First level. For more information, go to thebeginnersbible.com.