Sacred Pathways: Nine Ways to Connect with God
Spiral-Bound | September 8, 2020
Gary Thomas
Rebinding by Spiralverse™
★★★★☆+ from 1,001 to 10,000 ratings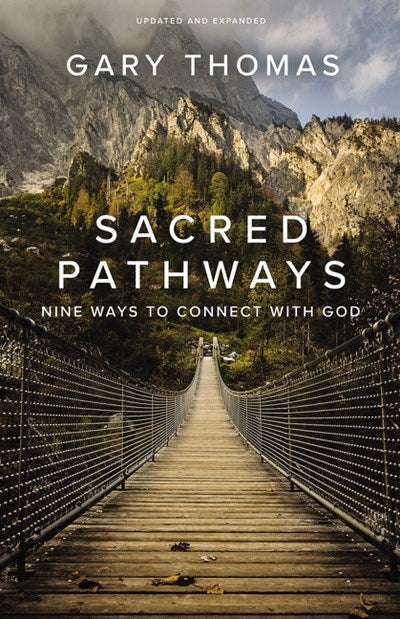 This revised and updated edition of Sacred Pathways will encourage you to see strengths, weaknesses, and tendencies in your devotional approach to God. Gary Thomas, bestselling author of Sacred Marriage, shows you how to improve your quiet time and personal worship life so you can strengthen your walk with the Lord.
Sacred Pathways reveals nine distinct spiritual temperaments--and their strengths, weaknesses, and tendencies--to help you improve your spiritual life and deepen your personal walk with God.
It's time to strip away the frustration of a one-size-fits-all spirituality and discover a path of worship that frees you to be you. Experienced spiritual directors, pastors, and church leaders recognize that all of us engage with God differently, and it's about time we do too.
In this updated and expanded edition of Sacred Pathways, Gary Thomas details nine spiritual temperaments and--like the Enneagram and other tools do with personality--encourages you to investigate the ways you most naturally express yourself in your relationship with God. He encourages you to dig into the traits, strengths, and pitfalls in your devotional approach so you can eliminate the barriers that keep you locked into rigid methods of worship and praise.
Plus, as you begin to identify and understand your own temperament, you'll soon learn about the temperaments that aren't necessarily "you" but that may help you understand the spiritual tendencies of friends, family, and others around you.
Whatever temperament or blend of temperaments best describes you, rest assured it's not by accident. It's by the design of a Creator who knew what he was doing when he made you according to his own unique intentions. If your spiritual walk is not what you'd like it to be, you can change that, starting here. Sacred Pathways will show you the route you were made to travel, marked by growth and filled with the riches of a close walk with God.
A Sacred Pathways video Bible study is also available for group or individual use, sold separately.
Gary Thomas's writing and speaking draw people closer to Christ and closer to others. He is the author of twenty books that together have sold more than two million copies and have been translated into more than a dozen languages. These books include Sacred Marriage, Cherish, Married Sex, and the Gold Medallion-award winning Authentic Faith.
Gary holds a bachelor's degree in English Literature from Western Washington University, a master's degree in systematic theology from Regent College (Vancouver, BC), and an honorary doctor of divinity degree from Western Seminary (Portland, OR). He serves as a teaching pastor at Cherry Hills Community Church in Highlands Ranch, Colorado.