Balance: Positioning Yourself to Do All Things Well
Spiral-Bound |
Touré Roberts, Sarah Jakes Roberts (Foreword by)
Rebinding by Spiralverse™
★★★★☆+ from 101 to 500 ratings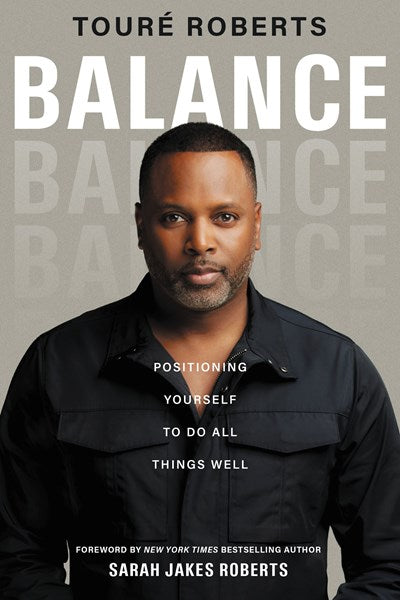 Popular speaker and national bestselling author Touré Roberts presents a complete guide that informs, inspires, and teaches the critical discipline of learning to make the necessary spiritual, mental, relational, and even professional adjustments required to be the best version of yourselves in a world of constant change.
Imagine learning to tap into the awareness, sensitivity, and highest thought patterns that enable the most successful outcomes in life, love, and business. What would your life look like if you were able to break the patterns of inconsistency that keep you from your absolute best? Could it be possible to identify and regularly access the highest version of yourself, leaving behind past hit-or-miss cycles and instead starting to win in every key area of your life?
These goals are not only possible--they are what you were made for!
In Balance, bestselling author Touré Roberts guides us on the eye-opening journey that unpacks the divine formula that makes this a reality.
This illuminating guide brings a unique and eye-opening perspective to the evasive concept of balance. Transcending familiar theories of work-life balance, Roberts teaches that balance is a state of existence, a becoming that, when realized, not only brings forth the highest version of an individual but optimizes their life's output, productivity, relational value, and overall achievement.
As he unpacks balance with stunning relatability, Roberts connects with readers on every level. His easy-to-grasp style of teaching and unabashed vulnerability illuminate and clarify how living in balance is the longing in each human heart. Roberts shares life-changing personal stories and the principles they inspired while discovering balance in his own life. As an author, speaker, entrepreneur, CEO, and lead pastor of two large congregations in the United States--not to mention a devoted husband and dedicated father of six--Roberts knows that merely juggling responsibilities is not the answer.
Balance departs from traditional techniques of time management and better organization to get to the core issues at stake. Roberts reveals that the path to true balance prioritizes self and discovers the unique, deep internal needs of the individual first. "Identifying your deepest needs not only is life-transforming but brings forth your greatest self, pouring an overflow of your best and highest abilities into the lives of everyone around you," Roberts explains. "Balance is not about learning to effectively give pieces of yourself to important parts of your life. Balance is about knowing and becoming your entire self--and then giving from your wholeness to everyone and everything within the context of your life."
Key chapters include The Power of No, which unpacks why "no" is the most powerful word in your vocabulary; There's No Team in I, a liberating and paradigm-shifting exploration of the difference between being selfish and the transformational quality of a term Roberts coins as being "self-ful"; The 5 Signs of Imbalance, which will help you quickly identify the imbalances in your life and effectively respond before crisis hits; and Balance after The Blow, a step-by-step guide to get you back on your feet after experiencing an unexpected setback. You'll walk away from each illuminating chapter with powerful principles, tools, and prompts for self-evaluation.
A personal navigation guide like no other, Balance charts your path to productivity, peace, positivity, purpose, and unlimited possibilities.
At one of the lowest points of my life, Pastor Toure, with his words and guidance, lifted me out of a dark place. I thought I'd been buried, and it was hard to see beyond the darkness, but what I realized through his words is that I'd been planted (not buried). It was my time to sow, and the time for reaping would come; surely enough, it did. Toure helped me find Balance and think positively; he encouraged me to question the narrative that I was feeding myself that was not serving me. Our biggest setback is often not what others say about us but the story we tell ourselves. Anjula Acharia, CEO, A-Series Management and Investments
Touré Roberts is the author of Purpose Awakening and Wholeness-a National Bestseller in 2018.
Touré is the founder of one of the most influential congregations in the nation, The Potter's House at One LA, and he, along with his wife, Sarah Jakes Roberts, recently took the helm of a second location, The Potter's House of Denver.
Touré's unique approach to faith attracts thousands to his physical campuses each week as well as his online campus of more than 350,000 subscribers. Touré's audience tunes in to experience his transformational teachings on faith, potential, purpose, relationships, and entrepreneurship. Touré and Sarah split their time between Los Angeles and Denver along with their six children.