The Read-Aloud Family: Making Meaningful and Lasting Connections with Your Kids
Spiral-Bound |
Sarah Mackenzie
Rebinding by Spiralverse™
★★★★☆+ from 10,001 to 50,000 ratings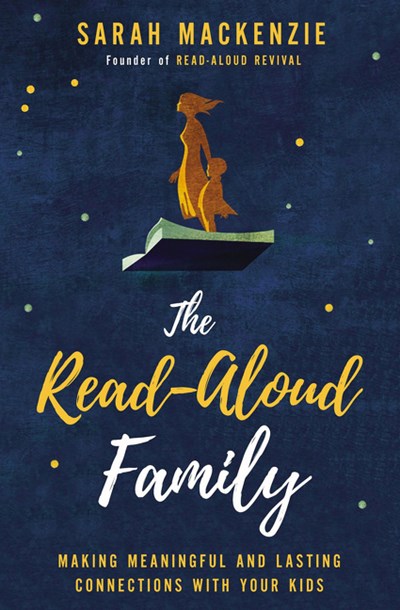 In The Read-Aloud Family, founder of the Read-Aloud Revival podcast Sarah Mackenzie champions the lifelong benefits of reading aloud to children and offers book lists, strategies, and tools parents can use to form deep and lasting connections with their kids.
Discover why reading aloud to your kids can make such a big difference in their lives and yours.
Learn practical strategies to make reading aloud an attainable family goal.
The stories we read--and the conversations we have about them--help shape family traditions, create lifelong memories, and become part of our legacy. Many parents can't get their children to become book-lovers. Other parents lose touch with what their child is reading.
Reading aloud with your children not only has the power to change a family--it can help your children grow into thoughtful, intelligent, empathetic adults.
We all know that connecting deeply with our families can be difficult in our busy, technology-driven society. Reading aloud is one of the best ways to be fully present with our children, even after they can read themselves, but it isn't always easy to do. In this book, Sarah Mackenzie--author and host of the Read-Aloud Revival podcast--will teach you how to:
Prepare your kids for academic success through reading to them
Develop empathy and compassion in your kids through books
Find time to read aloud in the midst of school, sports, and dinner dishes
Choose books across a variety of sibling interests and ages
Make reading aloud the best part of your family's day
SPECIAL FEATURES INCLUDE:
Index of family- and value-friendly books by title, author/illustrator.
A separate index of appropriate books, separated by age group, from children's board books to teen chapter books.
From a toddler's wonder to a teenager's resistance, you will find the inspiration you need to start a read-aloud movement in your own home that will bring your family closer together.
Sarah Mackenzie is an author, speaker, and podcast host. She created the Read-Aloud Revival podcast in 2014. That fateful decision resulted in a highly rated show with millions of downloads. Sarah helps families all over the world fall in love with books. She lives in the Northwest with her husband, Andrew. She homeschools their six kids and considers it her high calling to make sure they are well-stocked in the best books she can find.