Life Lessons from James: Practical Wisdom
Spiral-Bound |
Max Lucado
Rebinding by Spiralverse™
★★★★☆+ from 31 to 100 ratings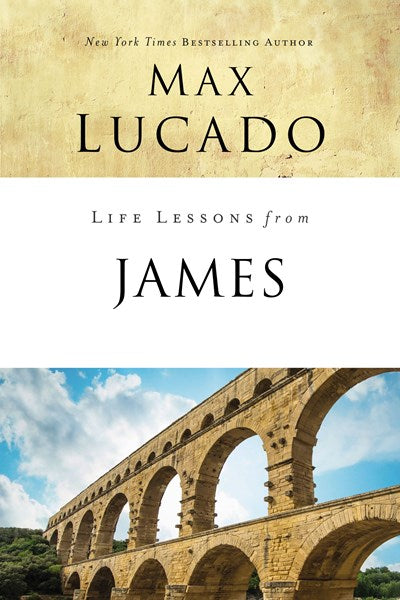 The Max Lucado Life Lessons series offers intriguing questions, inspirational stories, and poignant reflections to take readers deeper into God's Word.
Do your Monday actions reflect your Sunday worship? How about your claims to faith? Is your life full of noticeable changes and actions?
James, the half-brother of Jesus, wasn't impressed with talk. He knew that a life of faith was all about actions that revealed a difference in a person's life. For him, it was not that works save the Christian, but that they mark the Christian. In his letter, he boldly deals with practical issues of faith not bound by culture or place. He shows the importance of living a genuine life of faith. His message is bare-knuckled as he encourages, challenges, and confronts, offering practical words and admonitions to live out our faith.
As you read, study, journal, and discuss the book of James, watch for these key themes that Max will unpack throughout the book:
God gives us true wisdom.
Satan tempts to break us; God tests to strengthen us.
The words we use are powerful and influential.
Faith and good deeds go hand in hand.
The Life Lessons with Max Lucado series brings the Bible to life in twelve lessons filled with intriguing questions, inspirational stories, and poignant reflections to take you deeper into God's Word. Each lesson includes:
An opening reflection on the Bible book you're studying.
Background information to deepen your understanding of the cultural and historical setting.
An excerpt of the text (from the NIV and the NKJV).
Exploration questions with plenty of room to write your own thoughts and notes.
Inspirational thoughts from Max as well as a closing takeaway for further reflection.
The Life Lessons series is ideal for use in both a small-group setting or for individual study.
Since entering the ministry in 1978, Max Lucado has served churches in Miami, Florida; Rio de Janeiro, Brazil; and San Antonio, Texas. He currently serves as the teaching minister of Oak Hills Church in San Antonio. He is the recipient of the 2021 ECPA Pinnacle Award for his outstanding contribution to the publishing industry and society at large. He is America's bestselling inspirational author with more than 145 million products in print.
Visit his website at MaxLucado.com
Facebook.com/MaxLucado
Instagram.com/MaxLucado
Twitter.com/MaxLucado
Youtube.com/MaxLucadoOfficial
The Max Lucado Encouraging Word Podcast