Traitor to His Class: The Privileged Life and Radical Presidency of Franklin Delano Roosevelt
Spiral-Bound | September 8, 2009
H. W. Brands
Rebinding by Spiralverse™
★★★☆☆+ from 10,001 to 50,000 ratings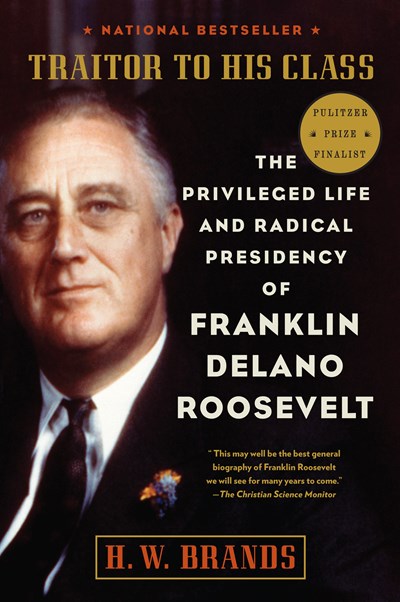 NATIONAL BESTSELLER • A brilliant evocation of one of the greatest presidents in American history by the two-time Pulitzer Prize finalist, bestselling historian, and author of Our First Civil War

"It may well be the best general biography of Franklin Roosevelt we will see for many years to come." —The Christian Science Monitor

Drawing on archival material, public speeches, correspondence and accounts by those closest to Roosevelt early in his career and during his presidency, H. W. Brands shows how Roosevelt transformed American government during the Depression with his New Deal legislation, and carefully managed the country's prelude to war. Brands shows how Roosevelt's friendship and regard for Winston Churchill helped to forge one of the greatest alliances in history, as Roosevelt, Churchill, and Stalin maneuvered to defeat Germany and prepare for post-war Europe.

Look for H.W. Brands's other biographies: THE FIRST AMERICAN (Benjamin Franklin), ANDREW JACKSON, THE MAN WHO SAVED THE UNION (Ulysses S. Grant), and REAGAN.
"Wonderful. . . . Rich in insights and fresh perspectives. . . . Brands is something of a rare breed. . . . This volume shows the precision and attention to detail that one would expect from a scholar and, at the same time, reads like a novel. . . . It may well be the best general biography of Franklin Roosevelt we will see for many years to come." —The Christian Science Monitor

"Excellent. . . . If you want to understand how a great president should act, Traitor to His Class is must reading." —The New York Observer

"[Roosevelt] was an extraordinarily complicated man and the author copes skilfully with his complexity. . . . Mr. Brands is masterly." —The Economist

"A graceful account of this complex, controversial, political genius who, everyone agrees, changed the course of history. Well-researched and exquisitely detailed." —Pittsburgh Post-Gazette

"Fresh, approachable, even-handed." —Boston Globe

"H. W. Brands has accomplished a remarkable feat in this terrific work. As if he were creating characters in a novel, he has brought to vivid life the central figures in his story—FDR, Eleanor, Sara Roosevelt, Winston Churchill, and the inner circle in the White House—while at the same time providing a fresh understanding of the rich historical context for their thoughts and actions at every step along the way." —Doris Kearns Goodwin, Pulitzer Prize-winning historian and author of Team of Rivals
H. W. BRANDS holds the Jack S. Blanton Sr. Chair in History at the University of Texas at Austin. A New York Times bestselling author, he was a finalist for the Pulitzer Prize in biography for The First American and Traitor to His Class.