What Mummy Makes: Cook just once for you and your baby
Spiral-Bound | November 10, 2020
Rebecca Wilson
Rebinding by Spiralverse™
★★★★☆+ from 101 to 500 ratings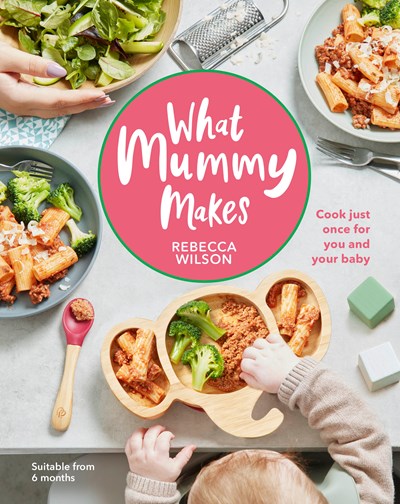 130+ recipes all suitable from 6 months old

Wean your baby and feed your family at the same time by cooking just one meal in under 30 minutes that everyone will enjoy!

Say goodbye to cooking multiple meals every day and the nuisances of making special little spoonfuls for your baby, plainer dishes for fussy older siblings, and something different again for the grown-ups.

With this ingenious new way to introduce solid food to your baby, you'll cook a single meal and eat it together as a family where the baby will learn how to eat from watching you. Each recipe is quick to prepare and easy to adapt for different ages and dietary requirements.

So forget 'baby food' and make light work of weaning with What Mommy Makes!
Rebecca Wilson is a mom, trained peer-to-peer breastfeeding coach and has harnessed huge attention in just a matter of months by sharing her simple, honest, and first-hand advice about weaning her own daughter, Nina. Rebecca's mission is to show parents and carers that weaning is simple, fun, and even exciting. Her philosophy is to get parents to sit down and eat as a family. This not only saves time for parents not needing to cook multiple meals, but it greatly helps babies and children gain healthy eating habits by having a family mealtime. Babies learn how to eat so much quicker by watching the people around them, and fussiness in older children is also proven to be reduced from having a positive eating role model. Find out more here: www.whatmummymakes.co.uk