The Gymnastics Book: The Young Performer's Guide to Gymnastics (3rd Edition, Revised)
Spiral-Bound |
Elfi Schlegel, Claire Dunn
Rebinding by Spiralverse™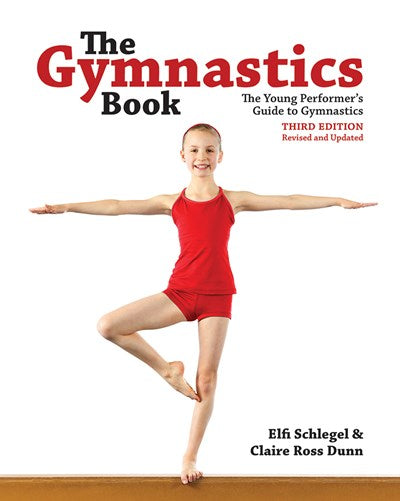 "An excellent book in every way... Best of all, the book is accessible to early readers. Superb coverage of a popular sport."
-- School Library Journal (starred review)
This indispensable guide is simply the best book for beginners to the sport of artistic gymnastics. Illustrated with full-color photographs of gymnasts balancing, tumbling and jumping, The Gymnastics Book features skilled guidance from a medal-winning Ontario Sports Hall of Fame gymnast who is now a noted instructor.
The topics covered in detail include:
Finding a good gymnastics club
Qualities to look for in a coach
Warm-up and cool-down exercises
Entering competitive gymnastics
Managing victories and losses
The importance of family and friends
Nutrition and apparel
Financial aspects
A typical day of training for competition.
This edition is updated for 2018 with new interviews and updated profiles on the most prominent star gymnasts of today and yesterday, including Simone Biles, Ellie Black, Ragan Smith, Kyle Shewfelt, Emily Boycott and many more. Anecdotes and advice from Olympic stars take beginners behind the scenes and offer a no-holds-barred account of life as a competitive gymnast. Updated profiles on the Olympic greats and gymnasts who have become well-known coaches, gym owners, and gymnastics judges show young gymnasts career pathways beyond the competition.
The Gymnastics Book provides motivation and detailed instruction to young gymnastics students
The Gymnastics Book is everything that I loved as a young gymnast in elementary school. Its full of colourful photos, step by step guide for basic gymnastics skills (artistic, trampoline and rhythmic too!), interviews and features of gymnastics greats from the past and present. Like Elfi, I am Canadian, so it was especially exciting to see so many Canadian athletes represented in the book, PLUS from a wide diversity of gymnastics disciplines -- from women's, men's, trampoline, rhythmic and Special Olympics... If you have any young aspiring gymnasts in your life that want to devour everything and anything gymnastics, I highly recommend this book. What a fabulous introduction to what our sport is all about. -Ali Stoffels
Elfi Schlegel was a member of the Canadian National Team from 1976 to 1985, won two gold medals at the 1978 Commonwealth Games and in 1979 won a team gold and individual bronze medal at the Pan Am Games. Elfi won Canada's first World Cup gymnastics medal, a bronze in the vault, in 1980. As a scholarship athlete at the University of Florida, she was a six-time All-American, a University of Florida Hall of Famer and is one of the University's 50 Women of Distinction. Elfi got her start as a gymnastics commentator at the age of 17 and worked for CTV and CBC. For 20 years, she was a sports commentator for NBC Sports, covering 9 Olympics (2 with CBC), as well as countless other gymnastics meets, and the sport of curling. Elfi lives in Toronto, Ontario, and, for over 20 years, has run Schlegel's Gymnastics Centre in Oakville, Ontario with her sister, former gymnast Andrea Schlegel.
Claire Ross Dunn is a writer and story editor for film and television. In 2014 she was nominated for the Canadian Screen Award for best writing in a children's or youth program.