Sweet Home Alaska
Spiral-Bound | July 16, 2019
Carole Estby Dagg
Rebinding by Spiralverse™
★★★★☆+ from 1,001 to 10,000 ratings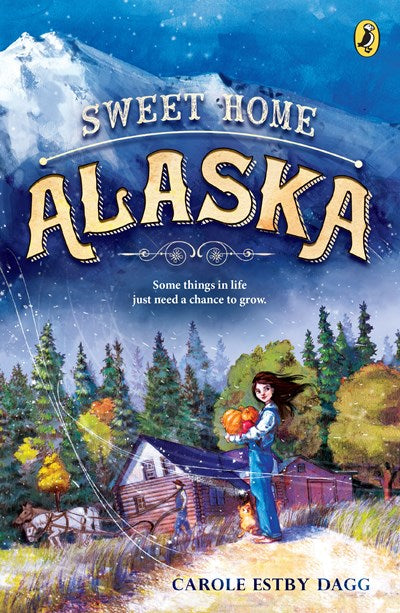 "If Laura Ingalls Wilder had lived in Alaska, she might have written this novel . . ."--Kirkus Reviews

It's 1934, and times are tough for Trip's family after the mill in their small Wisconsin town closes, leaving her father unemployed. Determined to provide for his family, he moves them all to Alaska to become pioneers as part of President Roosevelt's Palmer Colony project. Trip and her family are settling in, except her mom, who balks at the lack of civilization. But Trip feels like she's following in Laura Ingalls Wilder's footsteps, and she hatches a plan to raise enough money for a piano to convince her musical mother that Alaska is a wonderful and cultured home. Her sights set on the cash prize at the upcoming Palmer Colony Fair, but can Trip grow the largest pumpkin possible--using all the love, energy, and Farmer Boy expertise she can muster?
"If Laura Ingalls Wilder had lived in Alaska, she might have written this novel. . . . Heartwarming."—Kirkus Reviews

"With conscious homage to Wilder's Little House books, Dagg evokes the same pioneering spirit in a Depression-era setting."—The Horn Book

"Fact and fiction and real and imagined personalities and events are seamlessly woven into this quaint, energetic, and engaging story."—School Library Journal

Carole Estby Dagg (www.caroleestbydagg.com) also wrote the middle-grade historical novel The Year We Were Famous. She was born in Kansas City, Missouri, and has lived in Washington, Idaho, and British Columbia. She has degrees in sociology, library science, and accounting. Her real-life adventures include tiptoeing through King Tut's tomb, sand boarding the dunes of western Australia, riding a camel among the Great Pyramids, paddling with Manta rays in Moorea, and smelling the penguins in the Falkland Islands. She is married with two children, two grandchildren, a husband, and a bossy cat who supervises her work. She splits her writing time between her study in Everett, Washington, and a converted woodshed on San Juan Island.