How to Be Single and Happy: Science-Based Strategies for Keeping Your Sanity While Looking for a Soul Mate
Spiral-Bound | January 16, 2018
Jennifer Taitz
Rebinding by Spiralverse™
★★★★☆+ from 1,001 to 10,000 ratings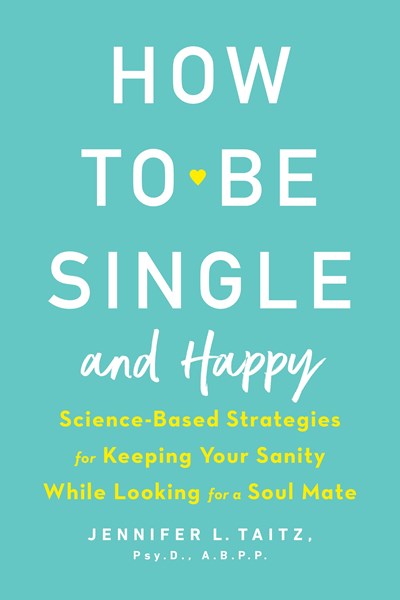 Single, less stressed, and free

If you're tired of swiping through dating apps, ghosting, and hearing well-meaning questions about why you're still single, it's hard not to feel "less-than" because you haven't found your soul mate.

Until now.

How to Be Single and Happy is an empowering, compassionate guide to stop overanalyzing romantic encounters, get over regrets or guilt about past relationships, and identify what you want and need in a partner. But this isn't just another dating book. Drawing on her extensive expertise as a clinical psychologist, as well as the latest research, hundreds of patient interviews, and key principles in positive psychology, Dr. Jennifer Taitz challenges the most common myths about women and love (like the advice to play hard to get). And while she teaches how to skillfully date, she'll also help you cultivate the mindset, values, and connections that ensure you'll live your best, happiest life, whether single or coupled up.
Only book in the genre recommended by the Association of Behavior and Cognitive Therapy

"Jenny Taitz offers a skillful guide to uncovering your strength and contentment as an individual, allowing you to live more fully. Using engaging case studies and solid research, How to Be Singleand Happy invites new insights into the stories we tell ourselves about relationships. This book is a gift for anyone who longs for real happiness."--Sharon Salzberg, bestselling author of Lovingkindness and Real Love

"Great misery can arise when our happiness is hitched to being partnered in an intimate relationship. Drawing on mindfulness teachings, psychological wisdom, case stories and research, Jenny Taitz offers compassionate guidance that can free our hearts from a binding cultural myth."--Tara Brach, author of Radical Acceptance and True Refuge

"You don't need to wait to find your partner to find happiness. Drawing on a wealth of evidence and experience as a therapist, Jenny Taitz has written a book that's as uplifting as it is practical."--Adam Grant, New York Times bestselling author of Give and Take, Originals, and Option B with Sheryl Sandberg

"What if, instead of treating the unprecedented rise of single people as a crisis, we all searched for ways to make going solo easier, more social, even happy? In her clinical work, and now, in this excellent book, Jenny Taitz has done pioneering work to help people achieve more fulfilling relationships regardless of their marital status. I recommend strongly."--Eric Klinenberg, Professor of Sociology at NYU and New York Times bestselling author of Going Solo and Modern Romance with Aziz Ansari

"Jenny Taitz has written a thoughtful, emotionally engaging book that offers plenty of insightful advice to modern women struggling to deal with the single person's life and the ever-changing dating scene in the 21st century. Packed with real-life stories and full of useful tips, the book has a strong message of reassurance and hope."--Roy F. Baumeister, author of Willpower: Rediscovering the Greatest Human Strength

"At the heart of this honest and engaging book is a key insight—namely that our emotions are sometimes but not always helpful. And when emotions are not helpful—such as when we're in the grip of anxiety about being alone forever—Dr. Taitz shows us how we can use scientifically documented methods for freeing ourselves from their painful grip. If you're suffering in your quest for the Right One (or miserable from being with the Wrong One), this book is a must-read!"--James Gross, Ph.D., Professor of Psychology, Stanford University

"How To Be Single And Happy is an excellent guide to living your life Now rather than waiting for the perfect partner. Dr. Taitz has written a powerful and practical guide based on the best scientific research and self-help tools to free you from the myth that only married people can be happy. With a personal and engaging style, Dr. Taitz gives you the tools to living a full life as a single person. I will recommend this wonderful book to anyone who thinks that being single is something to escape from."--Robert L. Leahy, Ph.D., author of The Jealousy Cure

"We all yearn for connection and belonging, but our minds get in the way, pulling us into rumination, worry, judgment, and other soul killers. This wise and compassionate volume helps us reconnect with our values and bring them into our hearts and our relationships with others. This book is for you if you think it is time to set aside loneliness and "not good enough", and to let go of 'what if ...' and 'if only.' This book is for you if you think it is time to live."--Steven C. Hayes, co-developer of Acceptance and Commitment Therapy (ACT) and author of Get Out of Your Mind and Into Your Life
JENNIFER L. TAITZ, Psy.D., A.B.P.P., is a board-certified cognitive behavioral clinical psychologist and a certified dialectical behavioral therapist who specializes in offering people proven tools to enhance their life. Dr. Taitz is passionate about helping people move past habits that interfere with their capacity for joy. Her first book, End Emotional Eating, earned a Seal of Merit from the Association of Cognitive and Behavioral Therapies. Dr. Taitz has presented her novel clinical application on mindfulness and managing emotions at national and international conferences. She serves as a clinical instructor in the department of psychiatry at University of California, Los Angeles, and maintains a clinical practice, LA CBT DBT. The author will donate a portion of her proceeds from How to be Single and Happy to the charitable organization Distributing Dignity and Girls Not Brides member organizations.