To Hell and Back: Europe 1914-1949
Spiral-Bound | November 15, 2016
Ian Kershaw
Rebinding by Spiralverse™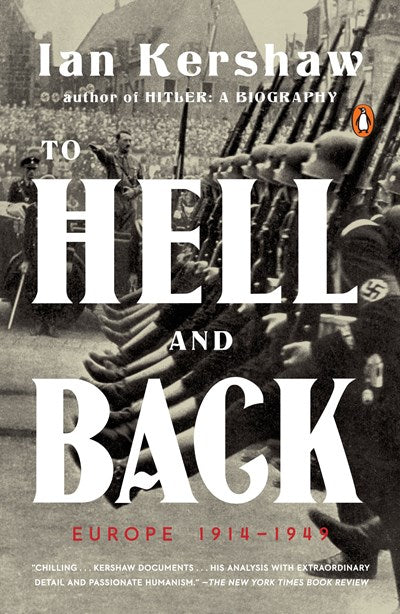 "Chilling... To Hell and Back should be required reading in every chancellery, every editorial cockpit and every place where peevish Euroskeptics do their thinking…. Kershaw documents each and every 'ism' of his analysis with extraordinary detail and passionate humanism."—The New York Times Book Review

The Penguin History of Europe series reaches the twentieth century with acclaimed scholar Ian Kershaw's long-anticipated analysis of the pivotal years of World War I and World War II.

The European catastrophe, the long continuous period from 1914 to 1949, was unprecedented in human history—an extraordinarily dramatic, often traumatic, and endlessly fascinating period of upheaval and transformation. This new volume in the Penguin History of Europe series offers comprehensive coverage of this tumultuous era. Beginning with the outbreak of World War I through the rise of Hitler and the aftermath of the Second World War, award-winning British historian Ian Kershaw combines his characteristic original scholarship and gripping prose as he profiles the key decision makers and the violent shocks of war as they affected the entire European continent and radically altered the course of European history. Kershaw identifies four major causes for this catastrophe: an explosion of ethnic-racist nationalism, bitter and irreconcilable demands for territorial revisionism, acute class conflict given concrete focus through the Bolshevik Revolution, and a protracted crisis of capitalism.

Incisive, brilliantly written, and filled with penetrating insights, To Hell and Back offers an indispensable study of a period in European history whose effects are still being felt today.
"Magisterial.... Kershaw handles the dark materials of his story with extraordinary grace, weaving his themes together with admirable analytical clarity.... Kershaw's account is illuminating precisely because it tightens the focus of the analysis, allowing us to see the continent as a diagram of contending forces, like the storm fronts and wind barbs on a weather map."—Christopher Clark, The New York Review of Books

"Remarkable and eminently readable.... Kershaw's book will deliver a jolt to American readers."—Boston Globe

"Mr. Kershaw has written a fair-minded, deeply researched and highly readable book that will serve as the first point of departure for anyone wishing to understand Europe's most terrible decades."—The Wall Street Journal

"Magisterial."—The Economist

"Well suited to casual readers and professional historians alike, this enlightening consideration of the World Wars and the interwar years is a worthwhile purchase. It will delight fans of Barbara Tuchman's The Proud: A Portrait of the World Before the War, 1890–1914."—Library Journal

"Kershaw's strength is political and economic history... and he uncovers a number of largely forgotten events.... [A] well-organized history."—Publishers Weekly

"Kershaw manages to cover a vast canvas of events with judicious skill and immense learning, never getting bogged down in detail or devoting excessive space to his special area of German expertise. We move at a fair clip, and always feel that we are in the hands of a master historian with a firm grasp of his mountainous material."—The Spectator (UK)

"Even those who know this history well will find much to shock them in these pages. They will find much to enlighten them too, for it is not just a catalogue of horrors, but also a rigorous analysis of causes."—The Times (UK)

"Other historians' books on the same period may be flashier or more provocative. But to read Kershaw on Europe's bloody century is to be driven through a ravaged landscape in the sleek, smooth comfort of a Rolls-Royce, guided by a historian who probably knows the territory better than anybody else on the planet."—The Sunday Times (UK)

"[Kershaw's] thoughtful and comprehensive history is likely to become a classic."—The Observer (UK)

"[A] political, economic and military history of the entire continent of Europe.... There are no easy explanations for the disasters that overwhelmed individuals who were caught... in the living hells fuelled by militarism, ethnic-racist politics, class conflict and economic crises. Kershaw leads his readers through this complex history in a clear and compelling manner."—Prospect (UK)
Ian Kershaw, author of To Hell and Back, The End, Fateful Choices, and Making Friends with Hitler, is a British historian of twentieth-century Germany noted for his monumental biographies of Adolf Hitler. In 2002, he received his knighthood for services to history. He is a fellow of the British Academy, the Royal Historical Society, the Wissenschaftskolleg zu Berlin, and the Alexander von Humboldt-Stiftung in Bonn, Germany. His newest book, Personality and Power, will be published in November, 2022.